You Were Never Lovelier
(1942)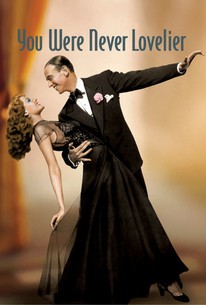 You Were Never Lovelier Photos
Movie Info
The second and last of the Fred Astaire-Rita Hayworth vehicles, You Were Never Lovelier takes place in Argentina (courtesy of the Columbia Pictures art-direction department). Fred plays an American dancer whose fondness for betting on horse races has left him broke. Rita is the daughter of wealthy Argentinian nightclub owner Adolphe Menjou, who has vowed that his daughters will marry in the order of their ages-and since older sister Leslie Brooks is about to walk to the altar, Rita is next in line. To encourage his daughter to seek out an eligible husband, Menjou sends Rita unsigned love notes so that she'll think she has a secret admirer. Through a series of misunderstandings that could only happen in the movies, Rita becomes convinced that Fred is the man who's been plying her with notes and gifts. Menjou hires the impoverished Astaire as a potential son-in-law. Fred bridles at the thought of being a "bought spouse", but changes his mind when he falls in love with Rita on his own.
Critic Reviews for You Were Never Lovelier
Audience Reviews for You Were Never Lovelier
"You Were Never Lovelier" from 1042 starring the very taletned dancer Fred Astaire and the beautiful Rita Hayworth. This musical comedy centers in South America where a wealthy businessman whom owns a hotel is looking to marry off his next in line daughter (Hayworth). This will be done by him posing as a suiter and sending lovely letters and flowers and then enters the dancer (Astaire) whom is looking to get a job at the nightclub in the hotel and then poses as the letter writer....a lovely musical score and dance numbers for a sweet film.
Mason Williams
Super Reviewer
½
OK, so the plot is kind of meh, but I'll add on an extra half star just for the dancing of Fred Astaire and Rita Hayworth. Fred and Rita always struck me as a slightly odd pairing when you put them together, but Rita was Fred's favourite dancing partner and their chemistry and the great choreography make the film. I just want to mention Gus Shilling who played the slighty camp secretary, who was the most hilarious aspect between the musical numbers.
You Were Never Lovelier Quotes
There are no approved quotes yet for this movie.