You Were Never Really Here
(2018)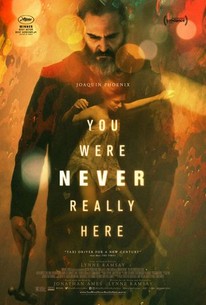 TOMATOMETER
AUDIENCE SCORE
Critic Consensus: Bracingly elevated by a typically committed lead performance from Joaquin Phoenix, You Were Never Really Here confirms writer-director Lynne Ramsay as one of modern cinema's most unique -- and uncompromising -- voices.
You Were Never Really Here Videos
You Were Never Really Here Photos
Movie Info
A traumatized veteran, unafraid of violence, tracks down missing girls for a living. When a job spins out of control, Joe's nightmares overtake him as a conspiracy is uncovered leading to what may be his death trip or his awakening.
News & Interviews for You Were Never Really Here
Critic Reviews for You Were Never Really Here
Audience Reviews for You Were Never Really Here
Both First Reformed and You Were Never Really Here use sly genre subversion to act as commentary on what kinds of movies the audience associates with these kind of haunted men, their arcs, and the nature of violence. Subverting audience expectations is in and of itself not necessarily a better option. You can have unexpected things happen but the narrative that happens after needs to be compelling, and if possible, unavoidable in hindsight (Game of Thrones is good at this). By the same notion, the finale of Breaking Bad was pretty easy to anticipate but that's because of how well written the storytelling trajectory was pointing to its natural end. I can tell a tense father-son reconciliation story and then if I end it with a meteor wiping out the Earth all of a sudden, well that's unexpected but that doesn't make it better storytelling. What helps elevate both movies is that the subversions are thematically related to the relationship between violence and vengeance, absolution and atonement, and the audience and our desires with these films. You Were Never Really Here is built as a hitman thriller based on Jonathan Ames' novel. Joe (Joaquin Phoenix) is a hired gun who specializes in rescuing young women. He's hired to find the missing adolescent daughter of a senatorial candidate. He investigates the underbelly of sex trafficking to save this little girl, but larger forces are at play and will make Joe suffer gravely for interfering with their wanton exploitation. The average audience for You Were Never Really Here has been steadily fed a diet of these kinds of movies, from the artful (Luc Besson's The Professional), to the pulpy (The Long Kiss Goodnight), to any number of hollow, nihilistic video game-styled murder fantasies (Hitman, a thousand straight-to-DVD movies). We're expecting men of action who are ruthlessly efficient and clever when it comes to their killing. We're expecting stylish merchants of death who leave behind a heavy body count with swagger. That's not what brilliant Scottish writer/director Lynne Ramsay (We Need to Talk About Kevin) has in mind at all. She takes the iconography of the hitman thriller and turns it into an expectation-smashing existential character study, but not just of its disturbed main character but also for the audience and our relationship to these movies. We expect remorseless killing machines that turn death into splashy and cool tableaus. These movies aren't so much key on mediation and reflection, beyond the standard "reap what you sow" adage. Much of the violence is kept off screen or purposely denied to the audience. I'm trying to remember if we even see Joe kill anyone on screen. The infiltration of the sex trafficking organization hops between fixed security angles, edited together in a dissonant manner, where the last shot doesn't fully line up for a smooth edit, leaving a half second. The effect is one that's knowingly alienating and challenging. When Joe does unleash his violent skills, it's rarely given a showcase for entertainment. This is a movie that doesn't celebrate its violence. There's a moment where Joe lies on the ground beside a mortally wounded bad guy. They exchange a few cordial words, he procures some vital information, but then Joe stays with the man and the two sing a song together. It sounds bizarre when written out but it's a moment that really stuck with me. After everything, these two men can find a small sliver of humanity between them to share. Even the final confrontation, the big climactic set piece of any other movie, ends with a shoulder shrug, as if Ramsay is saying to the audience, "Why would seeing all that be cathartic?" For Ramsay, the focus of the movie is on the man committing the acts of violence rather than how stylish and cool and cinematic those acts of violence can be. This is the one area where I feel a longer running time could have better helped her goal. I think Ramsay might be the best filmmaker we have for triptych narratives. 2011's We Need to Talk About Kevin is a startling and insightful movie that opens up the guilt of a woman whose son grew up very badly, jumping around time periods, using a repetition of images to provide visual stings and associations. You Were Never Really Here does similar labor, establishing our strong silent protagonist through glimpses of a troubled past, from a childhood with an abusive father and a mother he would have to save, to incidents during military service and police investigations that reminded Joe about the depravity of others, in particular the ability to exploit and dehumanize women as disposable property. Ramsay offers discorded images and brief flashes and asks the audience to put together the pieces to better understand Joe as a man propelled and haunted by his bloody past. However, at a slim 89 minutes, the audience could have used more time and opportunity to better develop and analyze this central character. The pieces are tantalizing but I wanted more, and as a result I found Joe to be an interesting start to a character that was in need of more time and attention to transcend the boundaries of his archetype. I needed a little more from him and his world. There are several moments that quickly come to my memory, sticking with me because of the level of artistic arrangement or implication. Because Ramsay wants to take the Hollywood hitman revenge thriller and deconstruct it and provoke her audience and its desires for violence, there isn't much of a plot to this movie. I could literally spoil the whole thing with the following sentence: a man of violence is hired to find a missing girl, finds her, loses her, and finds her again at great personal expense. The movie is more of a poignant and intriguing exercise in our relationship to these kinds of stories. There are moments of beauty in the movie that took my breath away, like when Joe lowers a wrapped body into the depths of a lake, and with the shafts of light, the curls of hair, the small visual details, it felt like watching a living baroque painting. There are also several bizarre moments that stand out, like when Joe fantasizes about blowing his brains out at a diner while the patrons, and the blood-soaked waitress, go about their day. It's these little flourishes that make the movie stand above other hitman movie deconstruction exercises like George Clooney's overly solemn The American. It's not all tragedy and inescapable dread. Amidst Joe's tortured past and troubled future, there's a necessary sense of hope. You don't know what will happen next but you're not resigned to retrograde nihilism. Both First Reformed and You Were Never Really Here are slow burn indie character studies that ask their audience to question the movies they've been set up for. Schrader and Ramsay are deft storytellers who pair their visual gifts to the psyches of their damaged, haunted, and self-destructive middle-aged men. Hawke is phenomenal as Rev. Toller and Phoenix is suitably unsettled from a life of confronting predatory violence. Both movies have also stayed with me, though First Reformed I find to be the better developed, better executed, better acted of the two films. It's enough of a comeback for Schrader, whose last film I remember seeing was the laughably bad Lindsay Lohan "erotic thriller" The Canyons. These are two movies that aren't exactly the most accessible. Both challenge the audience to analyze the personal relationships with genre storytelling. If you have patience and an open mind, both First Reformed and You Were Never Really Here provide thoughtful and methodical examinations on genre, violence, and the visceral appeal of empty bloodshed. Nate's Grades: B
Nate Zoebl
Super Reviewer
Okay. I liked bits of it. Other bits not so much.
Nicki Marie
Super Reviewer
Defying expectations with an atypical hitman thriller, Lynne Ramsay creates a surprising character study that benefits from an exceptional performance by Joaquin Phoenix. Full review on filmotrope. com
Carlos Magalhães
Super Reviewer
You Were Never Really Here Quotes
There are no approved quotes yet for this movie.