Young Guns
(1988)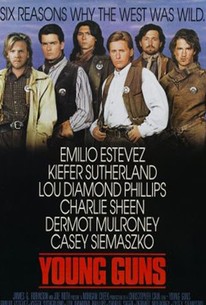 TOMATOMETER
AUDIENCE SCORE
Critic Consensus: Young Guns rounds up a posse of attractive young leads, but this cheerfully shallow Brat Pack Western ultimately has too much hat and not enough cattle.
Movie Info
In this western, a group of young, hotheaded kids, including the infamous William H. Bonney (Emilio Estevez), are hired to help out British land-owner John Henry Tunstall (Terence Stamp). When their boss is killed, Bonney leads the group of gunslingers out to capture the murderers. Giving in to his rage, Bonney shoots the guilty men down instead of bringing them back to town, and he and his boys end up on the run from the law.
Critic Reviews for Young Guns
Audience Reviews for Young Guns
EightThirty .
Super Reviewer
Although the stars are nice to look at, the story, characters, and plot aren't all that interesting. It's the typical western, and I really don't care for westerns anyway. The action was probably the best part. Overall, it's okay, but I bet other people just watch it for the stars as well.
I'll admit that Young Guns isn't all that great of a movie, but sometimes it's just nice to hear six reasons why the west was wild. It's basically an 80s movie set in the west with a cast of teen idols playing outlaws. In many ways it feels like a brat pack movie rather than an actual western, but I think that was obviously the intent here. It's undoubtedly got it's fun moments here like the peyote scene and the overuse of blood and insensibility when it comes to death. Somehow, this does end up feeling like some kind of bizarre prequel to Pat Garret and Billy the Kid. I never picked up on that before, but there are definitely some similarities. You've got the excellent taste in slow motion killings, character development that defies tradition and seemingly an entrance into the mind of a western outlaw. Now how can you beat a cast like Emilio Estevez as Billy, Kiefer Sutherland as doc, Lou Diamond Phillips as Chavez and a pre-drug Charlie Sheen? I guess if you threw in Zod and Jack Palance it'd be perfect. Oh wait, they are in it. The story is really easy to get into and the characters all have their goofy qualities. I think the more times I see this, the more I seem to enjoy it and and accept it for what it is. The 80s saw very few westerns, but this is the quintessential 80s western by far.
Conner Rainwater
Super Reviewer
Young Guns Quotes
| | |
| --- | --- |
| William H. Bonney/"Billy the Kid": | Reap it Murphy, you son of bitch. |
| | |
| --- | --- |
| William H. Bonney/"Billy the Kid": | I like these odds! |
| | |
| --- | --- |
| "Dirty Steve" Stephens: | Did you guys see the size of that chicken? |