Young Guns II
(1990)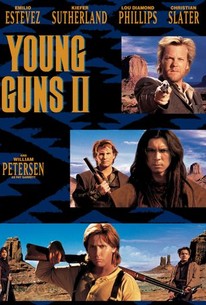 Movie Info
Only three of the original five "young guns" -- Billy the Kid (Emilio Estevez), Jose Chavez y Chavez (Lou Diamond Phillips), and Doc Scurlock (Kiefer Sutherland) -- return in Young Guns II, which is the story of Billy the Kid and his race to safety in Old Mexico while being trailed by a group of government agents led by Pat Garrett (William Petersen). Along the way, Billy's crew gains three new recruits: Arkansas Dave Rudabaugh (Christian Slater), Tom O'Folliard (Balthazar Getty), and Hendry French (Alan Ruck). Though the film suffers from an uneven script, many performances -- particularly Slater's -- are surprisingly strong, and the movie looks great. The theme song, "Blaze of Glory," is performed by Jon Bon Jovi in his first solo appearance; the rocker also has a cameo in the film.
Critic Reviews for Young Guns II
Audience Reviews for Young Guns II
½
Sequel to the cool Young Guns, Young Guns II is the story of how Billy The Kid is trying to outrun Pat Garrett and make it it safely to Old Mexico. As far as sequels so, usually they aren't that great, but Young Guns II is an interesting sequel with an awesome story that definitely delivers an entertaining 2 hours. The film follows the events after the first film, and many of the cast of the first film return where they left off. I am a fan of the old school Spaghetti westerns of Sergio Leone, but the Young Guns films are Westerns that are a lot of fun. This second film has a lot of action, a good soundtrack and good acting. Compared to the old school Westerns, Young Guns I and II can't compare, but it does deliver a dose of a classic Western film to a "hiper" audience. I think that Young Guns II is a fine sequel and really, I can't decide between which film I liked better. Each are very good and fun. The films are nothing epic, but the fact that it's a film about legendary outlaw Billy The Kid makes it worth watching. Emilio Estevez (who's career pretty much went no where) is a well suited actor to play Billy The Kid and he reprises his role here, and he delivers another great comical, eccentric performance. Young Guns II is a revamped Western film that gives the genre new blood. Along with Clint Eastwood's Unforgiven, Young Guns II can be considered a lifeline for a somewhat dying genre of cinema. Also in a way, i'd see both films in the Young Guns series as a bridge from the old spaghetti Westerns to the more recent Westerns Such as Unforgiven, The Quick And The Dead and the remake of True Grit. Without Young Guns I and II, I'm sure the genre would've died long ago.
Close to the first, not quite as good due to the fact they try and make it to silly here and there, silly wanna be funny moments that dont work. The soundtrack is better and the action looks better. The cast is still great but its just alittle too over the top. It all looks like the Bon Jovi music video, the ending is also abit stupid, but the final gunfight though short lived is pretty cool.
Phil Hubbs
Super Reviewer
excellant not as good as the first but is very close behind it excellant
Film Crazy
Super Reviewer
Young Guns II Quotes
There are no approved quotes yet for this movie.