Young Man With a Horn
(1950)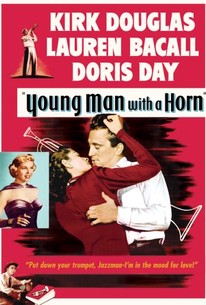 Movie Info
The life of tragic jazz great Bix Beiderbecke is given the "a clef" treatment in Warner Bros. Young Man With a Horn. Kirk Douglas plays the Beiderbecke character, here named Rick Martin. An ace trumpter player, Martin is one of the few white musicians to flourish in the black-dominated jazz scene of the 1920s. Chafing against the dullness of the "respectable" orchestras for whom he works, Martin finds at least two kindred spirits in the forms of torch singer Jo Jordan (Doris Day) and piano player Smoke Willoughby (Hoagy Carmichael). He rises to popularity with his own group, and along the way falls under the spell of wealthy jazz patroness Lauren Bacall. After marrying Bacall, Martin begins neglecting his music and turns more and more to alcohol. When he skips one of her fancy parties to attend the funeral of his mentor Juano Hernandez, Bacall angrily smashes all his jazz records, effectively ending what was never a very solid relationship. Crawling into a bottle, Martin loses his touch with the trumpet-a heartbreaking sequence, in which he goes to pieces in the middle of the pop standard "With a Song in My Heart". Unlike the real Beiderbecke, who died of alcoholism at the age of 28, Rick Martin is rescued by his faithful friends Day and Carmichael. Kirk Douglas' trumpeteering in Young Man with a Horn was effectively dubbed by Harry James, while jazz pianists Buddy Cole and Jimmy Zito make uncredited soundtrack contributions. The film was adapted by Carl Foreman and Edmund H. North from a novel by Dorothy Baker.
Critic Reviews for Young Man With a Horn
Audience Reviews for Young Man With a Horn
Kirk Douglas plays a young man with a horn, a trumpet that is. He wants to play jazz, and he struggles through life and his alcoholism and bad love life. An interesting story, and great performance from Kirk. I liked this movie.
½
Great music, good performances from the three leads.
Nothing very remarkable here. The story isn't exactly the most interesting or entertaining. The performances are all adequate, with Douglas playing the musician having to chose between the good girl or the bad girl (Doris Day and Lauren Bacall). By the time Bacall's character had departed I had started to get bored of the whole thing and the tag on Hollywood ending. The soundtrack is not bad though with heaps of cool jazz and a couple of Doris Day numbers thrown in, plus there are some nice exterior shots of New York.
Young Man With a Horn Quotes
There are no approved quotes yet for this movie.