The Young Savages
(1961)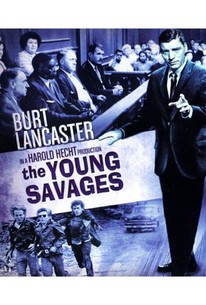 Movie Info
The Young Savages is what used to be called a "thinking man's picture" about a potentially lurid subject: urban juvenile delinquency. A blind Puerto Rican boy is knifed to death in Spanish Harlem, and three teenage gang members are accused of the crime. Politically ambitious assistant DA Burt Lancaster initially presses for the conviction of all three boys. But as he gets deeper into the case, he realizes that what appears cut-and-dried on the surface is tortuously complex: for starters, the murder victim was hardly the paragon of virtue that the prosecution claims. Despite pressure from his superiors and from members of the accused boys' gang (who at one point threaten Lancaster's wife Dina Merrill with a switchblade,) Lancaster nonetheless sees to it that justice is properly administered. The defendants are portrayed with varying degrees of Brando/Dean "method" by John Davis Chandler, Neil Nephew and Stanley Kristien; more believable, less affected performances are rendered by Shelley Winters, Pilar Seurat and Telly Savalas. Filmed on location in New York, The Young Savages was based on the Evan Hunter novel A Matter of Conviction. ~ Hal Erickson, Rovi
Critic Reviews for The Young Savages
Audience Reviews for The Young Savages
½
A murder in Harlem sets off the action here in this introspective about life in the urban setting, circa 1960. Often badly compared to West Side Story (w/o the music and dancing) I believe that this one is actually superior. In point of fact I resisted this for about 45 minutes, taking it to be yet another propaganda piece from those times about how society is "handling" the youths problem. There are certainly elements of that type of propaganda included, but good writing, directing, acting, the whole kit and kaboodle, overcome genre stereotypes to produce lively commentary worthy of your time.
Kevin M. Williams
Super Reviewer
Frankenhiemers' early film, The Young Savages, is a film I found underrated. The film opens with a gang, that look like they're straight out of West Side Story, attacking a young blind boy. A conservative prosecutor is assigned to the case, who has a closer connection than what meets the eye. What I found fascinating about this film, which was released in 1961, is how out dated it was. How is this a good thing? The film brought me back into the world of the 1960s, the traditionalism, the things that would be brushed off now were scandals in this town. I'm not a golden age person, but I did feel that I went into a time machine. The film doesn't only focus on the case, but the racial tensions surrounding it. Burt Lancaster stars in this film, and had a solid performances. The savages depicted weren't great actors, but they passed. The film did have scenes that I felt were dispensable , like the train and elevator scenes, which don't contribute to the story. I was hooked on the story line though, and despite the cheesiness, I was paying full attention to the faith of the boys.
Daniel Dolgin
Super Reviewer
Hollywood depiction of juvenile delinquency in the tradition of Blackboard Jungle and West Side Story. Dramatic and entertaining but decidedly unrealistic.
Randy Tippy
Super Reviewer
The Young Savages Quotes
There are no approved quotes yet for this movie.