Young Sherlock Holmes
(1985)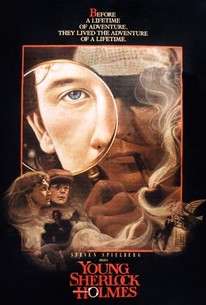 Young Sherlock Holmes Photos
Movie Info
Also released under the title Young Sherlock Holmes and the Pyramid of Fear, this film follows the adventures of young John Watson (Alan Cox) when he is shipped off to boarding school and meets up with the brilliantly bizarre Sherlock Holmes (Nicolas Rowe). The two boys strike up a friendship and promptly become involved in the investigation of a number of mysterious murders. When their curiosity gets them into trouble with a dangerous religious cult, Watson and Holmes must struggle to avoid capture while attempting to notify the authorities.
News & Interviews for Young Sherlock Holmes
Critic Reviews for Young Sherlock Holmes
Audience Reviews for Young Sherlock Holmes
Even almost 35 years later there are some really interesting and groundbreaking aspects about this film. First of all, it includes one of the first CGI creatures (the window picture knight) and had a Pixar team working on those effects. It's also worth noting how especially the beginning of Sherlock and Watson meeting at school precursors the Harry Potter films in mood and style, then you realize Chris Columbus wrote this. The film also includes one of the first post credits scenes that I can remember, aiming for a sequel that never came. As far as Sherlock cases go, this is a rather mediocre one made up for the film. During the surprisingly dramatic and action packed showdown our hero climbs, fights and fences more than he's using his brain, that seems a bit out of character. The creators clearly wanted to give him a bit of an Indiana Jones treatment, albeit a mild one. That's still pretty entertaining with quite some wasted potential.
A great all too little known film from '86. Set in Sherlock Holmes school days setting the story background as he becomes the worlds most famous detective. I remember seeing this at the cinema and it is just the sort of film full of action and adventure everyone should love. Steven Spielberg was involved in the production and it shows. This film has a feel to it like the Mummy and Indiana Jones films. It also has some very good SFX for the time, including very early use of cgi. If you have missed this film then you are missing out, track it down!
I might have loved this more if I didn't love Sherlock Holmes. But, I do. The plot seemed hopelessly contrived and the acting--with the notable exception of Watson--wooden. The sets were good, though, as were the costumes.
Bathsheba Monk
Super Reviewer
Young Sherlock Holmes Quotes