Young Toerless
(1966)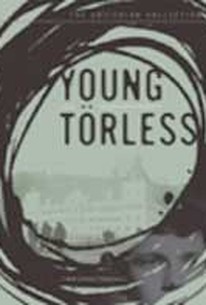 Movie Info
Toerless (Matthieu Carriere) attends school at an early 20th Century Austrian military boarding school. He is distracted from the school's attempts to educate and train the young boys by the brutality of a few select students. As the school bullies terrorize and humiliate a fellow student, Toerless simply watches from afar, uneasy about speaking out. His attitude differs little from the cold, unaffected teaching staff.This first feature from Volker Schlondorff (THE TIN DRUM), a chilling indictment of dehumanizing military society, won the International Critics Prize at Cannes. The images of punching bags and the black and white photography of the oppressive school are strong allegorical statements against fascism. Based on an equally brutal novel by Robert Musil and featuring Barbara Steele as a prostitute who teaches the boys a few things.
Critic Reviews for Young Toerless
All Critics (5) | Fresh (5) | Rotten (0) | DVD (3)
Where Anderson uses educational oppressiveness to trigger the students' revolutionary impulses, Schlöndorff presents it as an incubator for the horrors ahead
Noir life at a German boy's school, made more compelling in black and white.
September 13, 2005 | Rating: 3/5
The movie's disturbing power is in presenting how tyranny creeps into smaller, undisclosed facets of life.
March 30, 2005
Audience Reviews for Young Toerless
½
In "Young Torless," Basini(Marian Seidowsky) is in a bit of a pickle at a boarding school. Due to whoring and gambling, he is not only broke, but also in debt to half the student population. Reiting(Fred Dietz) offers to let him off the hook if only he swears unwavering fealty to him but Basini declines. That does not mean he is not desperate when he breaks into Beineberg's(Bernd Tischer) locker to steal his money. This turns out to be something of an open secret amongst a clique that includes Reiting, Beineberg and Torless(Mathieu Carriere) who have plans for Basini. "Young Torless" is a thought-provoking and mildly disturbing movie. When the students walk away from the train station in their crisp uniforms in the opening sequence, I originally thought they were marching off to war. Actually, that is not such a bad metaphor for the activities at this particular boarding school as far as inhumanity goes. While it would be easy to assign the label of the biggest monster to either Reiting or Beineberg, it should be remembered that despite having grave doubts about the school, Torless does nothing to intercede. And Basini does not put up any kind of resistance, lending a sort of perversity to the sadomasochism of the whole ordeal.
Young Toerless Quotes
There are no approved quotes yet for this movie.