Your Highness
(2011)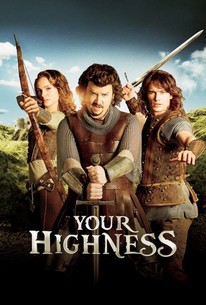 TOMATOMETER
AUDIENCE SCORE
Critic Consensus: Big budgets and costumes in service of scatalogical jokes may seem funny on paper, but in execution this is a highly monotonous romp that registers only occasional laughs.
Movie Info
Throughout history, tales of chivalry have burnished the legends of brave, handsome knights who rescue fair damsels, slay dragons and conquer evil. But behind many a hero is a good-for-nothing younger brother trying just to stay out of the way of those dragons, evil and trouble in general. Danny McBride and James Franco team up for an epic comedy adventure set in a fantastical world--Your Highness. As two princes on a daring mission to save their land, they must rescue the heir apparent's fiancée before their kingdom is destroyed. Thadeous (McBride) has spent his life watching his perfect older brother Fabious (Franco) embark upon valiant journeys and win the hearts of his people. Tired of being passed over for adventure, adoration and the throne, he's settled for a life of wizard's weed, hard booze and easy maidens. But when Fabious' bride-to-be, Belladonna (Zooey Deschanel), gets kidnapped by the evil wizard Leezar (Justin Theroux), the king gives his deadbeat son an ultimatum: Man up and help rescue her or get cut off. Half-assedly embarking upon his first quest, Thadeous joins Fabious to trek across the perilous outlands and free the princess. Joined by Isabel (Natalie Portman)--an elusive warrior with a dangerous agenda of her own--the brothers must vanquish horrific creatures and traitorous knights before they can reach Belladonna. If Thadeous can find his inner hero, he can help his brother prevent the destruction of his land. Stay a slacker, and not only does he die a coward, he gets front row seats to the dawn of an all-new Dark Ages. -- (C) Universal
News & Interviews for Your Highness
Critic Reviews for Your Highness
Audience Reviews for Your Highness
½
Fun jousting and jesting with the popular sword and sorcery quest motif, with plenty of made for DVD (press "replay topless babes") moments. Bong and box of kleenex optional. And its better than its obvious stoner-and-proud roots imply.
Kevin M. Williams
Super Reviewer
While the trailer was really funny, like so often, it also wasted most of the ammunition. The rest of the film is neither very surprising nor funny but relies on stoner and sex jokes, pretty much exclusively so. It's amazing how the creators gathered such talented people like Dance, Lewis or Portman. What could have been a new, politically incorrect version of Princess of the Bride is just plain stupid, even if entertaining enough. At least one of the running gags works, though: if you ever wanted to see Zoey Deschanel trying to suck a severed Minotaur dick, this is your kinda film. If you think that sentence alone is really bizarre, stay away.
½
Knights, wizards, trolls and fair maidens. All congregated for your amusement in a fabulous comedy-adventure with quite the lustrous cast. Not the best quest ever, as the poster would have us believe, but very entertaining in all its vulgar and boundless sense of humor. Sort of in the same spirit as Men in Tights and Monty Python and the Holy Grail, only not fully as clever or brilliant. My expectations here were not very high, so I was quite astonished by how enjoyable it was. A great many of the jokes fall flat on their faces, but I just loved the overall atmosphere and ye olde medieval chatter. Not to mention the heavenly sight of Natalie Portman in a golden thong. You ought therefore bear in mind that my review is rather biased. For what I deemed a most joyous and rousing occation, others may likely find a few ale kegs short of a satisfying feast.
Your Highness Quotes
| | |
| --- | --- |
| Thadeous: | The only thing those tits shall trap is my warm spray. |
| | |
| --- | --- |
| Thadeous: | He wants us to jerk him off! |
| Great Wize Wizard: | Just touch the tip and twist it. |
| Thadeous: | We are not going to do that. |
| Fabious: | If it's for the quest, we will do what needs to be done. |
| Thadeous: | Yuck! |
| | |
| --- | --- |
| Leezar: | The fuckening has begun! |
| | |
| --- | --- |
| Thadeous: | My path has been unstable, but my conviction is born to damn the fuckers who doubted me. To lessen the assholes who tested me. To right what is wrong, to restore faith that has long been lost, and to rise to great heights even beyond my own legend as a Great Cocksmith, Master Pintsman, and stunningly handsome Prince of Light in these dark Dark Ages! |