Your Name. (Kimi No Na Wa.)
(2017)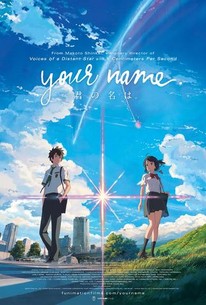 TOMATOMETER
AUDIENCE SCORE
Critic Consensus: As beautifully animated as it is emotionally satisfying, Your Name adds another outstanding chapter to writer-director Makoto Shinkai's filmography.
Your Name. (Kimi No Na Wa.) Videos
Your Name. (Kimi No Na Wa.) Photos
Movie Info
From director Makoto Shinkai, the innovative mind behind Voices of a Distant Star and 5 Centimeters Per Second, comes a beautiful masterpiece about time, the thread of fate, and the hearts of two young souls. The day the stars fell, two lives changed forever. High schoolers Mitsuha and Taki are complete strangers living separate lives. But one night, they suddenly switch places. Mitsuha wakes up in Taki's body, and he in hers. This bizarre occurrence continues to happen randomly, and the two must adjust their lives around each other. Yet, somehow, it works. They build a connection and communicate by leaving notes, messages, and more importantly, an imprint. When a dazzling comet lights up the night's sky, something shifts, and they seek each other out wanting something more-a chance to finally meet. But try as they might, something more daunting than distance prevents them. Is the string of fate between Mitsuha and Taki strong enough to bring them together, or will forces outside their control leave them forever separated?
Critic Reviews for Your Name. (Kimi No Na Wa.)
Audience Reviews for Your Name. (Kimi No Na Wa.)
½
Finally making its way around the world, Your Name is a film that has been loved by the people of Japan back in 2016. After seeing this film on the big screen, I now see what all of the chatter was about. Not only is this film beautifully animated and one of the best stories to come from any Anime film in recent memory, but the emotional impact this film delivers in the third act is truly out of this world. You may or may not be able to get a chance to see this film at this point in time, but once this film is available to stream or purchase, I can't recommend this film enough, especially if you are a fan of this genre of filmmaking. Here is why I believe Your Name is a near-perfect film. Two separate people, living two separate lives, in two separate parts of the world, suddenly wake up in each other's body one morning. Randomly occurring over and over again, they learn to communicate with each other in cryptic ways. Feeling a sense of connection, they are determined to meet each other. Through a series of fun mishaps, sad realizations, and a punch-to-the-gut twist that alters the entire framework this film sets in motion throughout the first act, this familiar body-swap storyline is far more complex than what the initial plot synopsis/trailers have lead you to believe. The very essence of this film is about time and what it truly means. There are a few different ways of interpreting the conclusion of this film, and I personally found it fascinating. The fact that the conclusion can have a few different meanings, is also my one complain about this film. This film does an impeccable job at easing you into the complexity of its story. At first, this film is a loveable (and slightly perverted) comedic body-swap story. Not staying in that territory for long, a much deeper and touching story arises. Making viewers rethink the entire film, there are quite a few moments where I can see the audience becoming totally lost, not being able to fully grasp the emotional conclusion. While this is not a personal flaw I have with the film, it's definitely where I feel the dislikes will come from the people giving it negative reviews. If you are willing to think and be open for anything, I'm sure 90% of its audience will fall in love with its premise. Otherwise, the film just isn't for you. What a film needs to do in order to make its audience care about its characters by the final moments, is to make compelling cases as to why we need to care about them. Giving them perverted, shy, quirky, and thought-provoking characteristics all added up to two loveable on-screen animated characters that I found myself tearing up with by the final moments of Your Name. The meaning of the title gives even more depth to these two, shall I say star-crossed lovers? I can't elaborate on that without spoiling the finale, but lets just say you need to be wide awake to fully appreciate what this film goes for in the end. Overall, Your Name is a picture perfect representation of the best version a story like this can possibly be. With a pulse-pounding and endearing score all at once, this is a film that sucks you in and holds your attention, regardless if its moving fast or slow. The biggest flaw this film would have suffered from would have been a weak conclusion to a film that is otherwise filled with eons of questions. Giving you just enough in order to grasp the concept and then leaving certain elements open to interpretation, there isn't much to complain about here. Wonderfully animated, impeccably crafted in terms of storytelling, and having two of the most memorable Anime character on the big screen of my recent memory, Your Name met all of my expectations and then some. If you are a fan of this genre, I can't recommend this film enough.
½
Your Name manages to paint an insanely broad stroke of appeal without being convenient or contrive which is no small feat. Working as a highschool romance, escapist fantasy and a multilayered sci fi. It even utilizes cityboy smalltown girl archetypes to it's advantage. It actually starts off rather unimpressively with its seemingly arbitrary freaky-friday premise, lighthearted teen romanticism and arguably sexist overtones... but when it begins to find a dramatic stage the story quickly races into suspense as pieces of the puzzle fall into place. As with any Anime romance it clashes not once but twice with substantial melodramatic overtures but it's never a cheap feeling. Despite the protagonists almost lack of personality they feel real, even the supporting cast gets subtly fleshed out throughout the film. This masterful attention to detail in character portrayal makes a satisfactory end when the curtain closes. Shinkai really knows how to play on a demographic's longing for purpose. Taki and Mitsuha appear to go through much hardship but how awfully wonderful would it be to have your life's purpose defined for you in a supernatural event that leads to an extraordinary love?
Drake Tsui
Super Reviewer
For those who like complex plots and rewatching movies.
Letitia Lew
Super Reviewer
Your Name. (Kimi No Na Wa.) Quotes
There are no approved quotes yet for this movie.