You've Got Mail
(1998)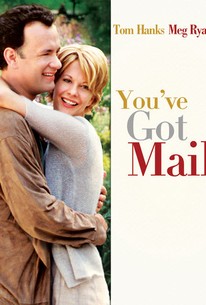 Movie Info
The film tells of Kathleen Kelly, who owns a children's bookstore in New York. It is a small but profitable labor of love -- until Foxbooks, a mega-chain of super-sized bookstores, begins building across the street. Joe Fox, an executive with the family-owned firm, is directly responsible for this particular branch. Kathleen despises Joe and everything he seems to stand for. The future of her very livelihood is in doubt. When Kathleen and Joe are not working, they are logged onto their respective computers, where they've each met a wonderful friend. No one else has shared-or is even aware of-their intimate, anonymous electronic conversations that begin with the magic words "you've got mail."
Critic Reviews for You've Got Mail
Audience Reviews for You've Got Mail
½
Nice 90's rom com. Got to admit, I don't think I could forgive the guy who ran me out of business, let alone love him - but I could be over thinking it. I really liked the little book store too - really cute. Meg Ryan used to do this type of film very well. I have found myself rewatching a few lately, which is odd as I wasn't huge on them when they were first out. Though they are obviously dated now, they are still nice movies and she's very relatable in them.
Nicki Marie
Super Reviewer
½
Very predictable storyline, similar to Sleepless in Seattle - the characters don't know each other but are destined to meet. They chat via email, but don't realise they loathe each other in real life. Good cast. Modern adaptation of shop around the corner.
Candy Rose
Super Reviewer
½
I am tackling my demons and attempting a few Rom Coms, this would usually be the type of film I would side step, but I will admit to liking this a little and finding the two sides of the relationship interesting.
Lady D'arbanville
Super Reviewer
You've Got Mail Quotes
| | |
| --- | --- |
| Joe Fox: | Let me just say there was a man sitting in the elevator with me who knew exactly what he wanted, and I found myself wishing I were as lucky as he. |
| | |
| --- | --- |
| Joe Fox: | In the meantime we'll just put up a big sign, "Coming soon Fox Book Superstore, the end of civilization as you know it." |
| Joe Fox: | In the meantime we'll just put up a big sign, 'Coming soon Fox Book Superstore, the end of civilization as you know it.' |
| | |
| --- | --- |
| Kathleen Kelly: | Kathleen Kelly: I love daisies. Joe Fox: You told me. Kathleen Kelly: They're so friendly. Don't you think daisies are the friendliest flower? |
| Kathleen Kelly: | I love daisies. |
| Joe Fox: | You told me. |
| George Pappas: | They're so friendly. Don't you think daisies are the friendliest flower? |
| | |
| --- | --- |
| Joe Fox: | The whole purpose of places like Starbucks is for people with no decision-making ability whatsoever to make six decisions just to buy one cup of coffee. Short, tall, light, dark, caf, decaf, low-fat, non-fat, etc. So people who don't know what the hell they're doing or who on earth they are can, for only $2.95, get not just a cup of coffee but an absolutely defining sense of self: Tall. Decaf. Cappuccino. |
| Joe Fox: | The whole purpose of places like Starbucks is for people with no decision-making ability whatsoever to make six decisions just to buy one cup of coffee. Short, tall, light, dark, caf, decaf, low-fat, non-fat, etc. So people who don't know what the hell they're doing or who on earth they are can, for only $2.95, get not just a cup of coffee but an absolutely defining sense of self: Tall. Decaf. Cappuccino. |