Z
(1969)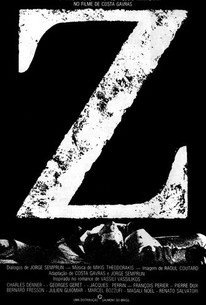 TOMATOMETER
AUDIENCE SCORE
Critic Consensus: Powerfully effective, this anti-fascist political thriller stands out as both high-conscience melodrama and high-tempo action movie.
Movie Info
Based on true events, "Z" is the award-winning drama about a political activist's murder and its investigation by a dogged prosecutor which uncovers a conspiracy of government and military.
Audience Reviews for Z
"Z" is a film of the sixties, even more so perhaps than "Woodstock". The film shows what the effects of public protest can have on the established government, in particular, the paranoid, thug-like behavior of bullies when threatened. "Z" stands for "he lives", and the "he" in this case is The Deputy, or The Doctor, a dynamic leader of the leftwing party. He's coming to town to give a speech on nuclear disarmament and the right wing Junta is conspiring to shut him up. They do so with the help of hired goons wielding truncheons who disrupt the meeting, first by inciting the crowd to riot, then by beating up anyone who even looks like The Deputy. The police are there for crowd control, but they stand by stone-faced as blood is spilled. Only two newspaper reporters and an investigating magistrate are interested in getting to the truth of what happened at the rally, everyone else seems to only want to cover it up. As I said before, this is a film of the sixties, where the student protestor's paranoia was usually justified, and those in power were terrified to the point of doing cowardly and unspeakable acts. Where long hair and rock-n-roll was not just a matter of taste but a threat to the very existence of their way of life. Under these conditions of butting heads and idealogies, where one side pushes, and the other side must push back, there will be victims of injustice. Z is a film about that injustice and it makes no bones about it.
Devon Bott
Super Reviewer
½
Old school mallet about murderous corruption in high places when a charismatic anti-status quo leader is mysteriously struck down during a public rally. An international cast lend mucho gravitas to the seemingly quick proceedings. Also at play, amongst other things, is the simmering violent capabilities quietly waiting beneath the surface of "normal, working citizens". Must see.
Kevin M. Williams
Super Reviewer
½
Z is a very original and fast paced political thriller, full of surprises throughout. Greek director Costa Gravas made a depiction of an actual assination of an opposition politician in his native country, but it's shot with French actors in Algeria. This sounds strange, but it gives the film a universal almost allegorical quality which transcends both its time and its politics. What I liked about Z was its energy and drive. Its violence is perpetrated by low rent thugs with clubs as their weapons - not a knife or gun to be found. Star Yves Montand, plays a physician who leads the political opposition, mostly from an anti-nuclear bomb angle. He's assasinated in the first third of the movie, which is a similar effect to Janet Leigh's early shower demise in Psycho. It's a shock and you wonder which character can possibly emerge as a protagonist. In this case, it's an unforgettable Jean Louis Trintignant, as a enigmatic, delving state prosecutor, you are unaware what side he's on, till he reveals his hand at the end. What's truly unique about Z's perspective (which is Marxist, but don't let this be a deterrent to enjoying the film) is how it shows the underclass manipulated through arms length control by the junta to doing the bidding of the ruling class. I don't know when such a complex and potentially dry political analysis has been presented in such an entertaining and fresh way. Costa Gavras makes very interesting use of flashback techniques and unusual hand held camera moves to keep the film at maximum intensity. It's shot with crisp, high resolution vivid colour in sunny mediterranean tones. The film feels much shorter than its 2 hour plus running time. It has humour and passion. On the down side, the characters are presented at a cold distance, and the story is much more about the political situation than about individual lives, which are only hinted at. Greek diva Irene Pappas gives a very interesting performance as Montand's suffering wife, but we don't spend enough time with her to understand or feel her or anyone else's situation. We see her anguish and move on.Trintignant is all business, we learn nothing about him as a human being. Still, this film is one of kind. It didn't remind me of anything else I had ever seen, and for that, I recommend it heartily to all you fans of poltical thrillers. It was more original and involving than a similar recent critical success, Tinker, Tailor, Soldier, Spy which had a lot going for it but I found it overrated and dry. Get the Criterion disc, it looks awesome.
Josh Morris
Super Reviewer
Z Quotes
There are no approved quotes yet for this movie.