Zapped!
(1982)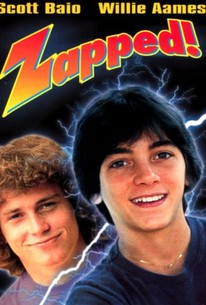 Movie Info
In this comedy, a science experiment goes awry, leaving high-school wiz Barney (Scott Baio) with telekinetic powers. As Barney begins to experiment with his new abilities, he and his friend discover a variety of uses for them, including undressing the local high school girls.
Critic Reviews for Zapped!
Audience Reviews for Zapped!
Technically speaking, this movie is fairly terrible. It's poorly made, the dialogue is laughable, the special effects are even worse, it's fairly sexist, particularly its third act, the acting is substandard. So, really, there's nothing that's kind of good about this film. Yet, to be honest, there's a certain charm about the film that's hard to deny. And I mean a certain B-movie charm, like the film knows that it's terrible and it doesn't pretend to be anything other than that. I know this film is 34 years old, by this point, but they can't have imagined that Scott Baio staring at something with his death gaze to make it move wouldn't be seen as terrible. Not to mention that Scott Baio, to be fair, has never been a good actor. So it's made even more ridiculous by that fact. Like Scott is so obvious with his stares that it's completely unrealistic that nobody else in the movie, with the exception of Bernadette and Peyton, ever noticed that when Barney, Scott's character, had a stupid look on his face that shit moved 'on its own'. I mean you can't help but laugh at stuff like that. But the film still does some pretty cool stuff on its own, like there's the entire thing with Barney's mom thinking her son is possessed by a demon and calling priests in order to perform an exorcism. The film doesn't really have an actual story, like what's the purpose of the film, who the fuck knows? All it is is Barney going around and doing silly shit with his powers, like there's no real endgame here. I'm serious when I say that there is absolutely no point to this movie. The romantic subplot is something else in this movie. It literally comes out of nowhere, like Barney and Bernadette are hanging out, she says something about messing around and then there's the requisite romantic montage where they do various things, like go to picnics, make out, make passionate love. It's so bad that it's almost genius. The third act is almost horrifyingly sexist. Essentially, Barney, giving zero fucks, uses his powers to take everybody's clothes off during prom. But the only people in the prom that are ever fully naked in the film are the women. It's clearly another era, because you couldn't get away with this now and not have some sort of backlash, and a well-deserved one at that. I mean the scene is pretty crazy and somewhat fun, but it's obvious that these were different times and maybe not necessarily for the better. Again, realistically, this movie is terrible, but it entertained me with how bad it actually is, hence why it gets the rating it does. It's a considerably worse movie than the rating implies. This is clearly not recommended if you're looking for something that's good, but it's entertaining to watch if you know what you're in for. This is a movie you laugh at, not laugh with. So as long as you know, and are fine, with that, then this will offer a decent experience. Everyone else need not apply.
Jesse Ortega
Super Reviewer
A fun and very funny comedy, I enjoyed it a lot. Of course, it is does get a bit too goofy at times, but I still enjoyed it.
This is the basic high school sex comedy. A kid drinks a potion that gives him telekinetic powers and the only thing he uses it for is to see naked girls.
Jason Spencer
Super Reviewer
Zapped! Quotes
There are no approved quotes yet for this movie.