Zathura: A Space Adventure
(2005)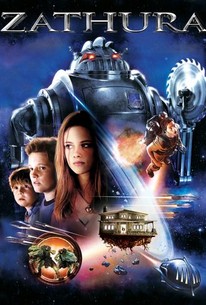 TOMATOMETER
AUDIENCE SCORE
Critic Consensus: Dazzling special effects for the kids + well-crafted storytelling for the 'rents = cinematic satisfaction for the whole family.
Zathura: A Space Adventure Videos
Zathura: A Space Adventure Photos
Movie Info
Two young brothers are drawn into an intergalactic adventure when their house is magically hurtled through space because of the board game they are playing.
News & Interviews for Zathura: A Space Adventure
Critic Reviews for Zathura: A Space Adventure
Audience Reviews for Zathura: A Space Adventure
Kristen Stewart's best performance! Hahaha I mean it's not her most challenging role, but her adult self is too inhibited to do "mainstream" emotions of surprise, fear, annoyance, and this haughty big sister role actually requires her to stretch her gloomy face (which I still love), and she was young enough to not overthink it. Young Josh Hutcherson and Jonah Bobo (of "Crazy, Stupid [refuse that superfluous comma] Love") are ridiculously adorable as quarrelsome brothers in this "Jumanji" sequel. I didn't even realize it was an actual sequel adapted from the book by Chris Van Allsburg because I was never a fan of the first with Kirsten Dunst and Robin Williams. "Zathura" has so many funny lines that even adults will enjoy, like, "Get me a juice box, bitch!" "Grandma!" when the urn falls, and "The card!" when they try to convince Lisa of the game's magic. And who knew that before Dax Shepherd became the butt-of-the-joke lucky enough to lock down hottie Kristen Bell, he was a rather swashbuckling astronaut himself?!
Alice Shen
Super Reviewer
½
Zathura has been easily compared to the 1995 fantasy comedy, Jumanji, and it's no secret why. Both films share similar plotlines. However, this film has more of a science fiction edge to the story that makes it a bit different. If you forget the similarities between the films, this is a fun, entertaining picture that is worth seeing because there are several worthwhile moments due to a well crafted script, good cast and good direction from director Jon Favreau. The film has good effects, and plenty of thrills to really make it a highly entertaining picture from start to finish. The film isn't perfect, but for the most part, it's a worthwhile affair that is sure to appeal to genre fans. With a fine mix of comedy and Sci Fi Fantasy, Zathura is a film that accomplishes things that Jumanji did not, even if they thread similar ground, both films are good for what they are. With that being said, Zathura is a fun, entertaining picture that is very well done. The film shouldn't be dismissed so easily, as it possesses enough charm to make this film worth your time. With Favreau's direction, he is able to craft a rousing comedic adventure that uses a familiar idea, but makes it different with a few changes to the story. Zathura's strength lies in the imaginative aspect of the story, even if it's similar to Jumanji, the film uses fresh ideas to tell its own story by introducing different ideas, concepts that work well to keep you on the edge of your seat from start to finish. Both Jumanji and Zathura are fun and entertaining films, and each have their qualities that make them standout. Forget the similarities, go into this one with an open mind, and you're surely going to enjoy it. Like I said, even if threads similar ground, this is nonetheless a film worth seeing due to a fun story, terrific visuals a fun cast and constant thrills.
So the pitch meeting for this one was basically, "Hey, how can we just copy Jumanji, but have even less plot?" There's barely a story here. Brothers fight, then a list of stuff happens as they pull cards, then a happy ending. Lack of imagination, an entire cast of unlikeable characters, and some sub-par effects (those creature puppets were horrible) make this a film we won't be watching again anytime soon, if ever.
Martin Bishop
Super Reviewer
Zathura: A Space Adventure Quotes
| | |
| --- | --- |
| Danny: | Are you doing this to keep Zorgons away? |
| Astronaut: | Nope. I'm doing this because I've been eating paste out of a tube for 15 years. |
| | |
| --- | --- |
| Danny: | A card came out! |
| Walter: | Fascinating. |