Zelig
(1983)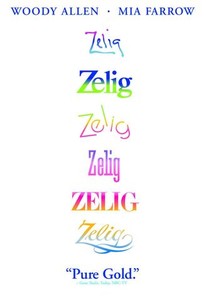 TOMATOMETER
AUDIENCE SCORE
Critic Consensus: Wryly amusing, technically impressive, and ultimately thought-provoking, Zelig represents Woody Allen in complete command of his craft.
Movie Info
Leonard Zelig, the "human chameleon", is profiled in this mock-documentary. Director Woody Allen appears as Zelig in scenes that purport to be vintage newsreel clips of the 1920s and 1930s, but are actually clever recreations, "aged" and scratched-up Citizen Kane-style by special-effects maestros Joel Hynick, Stuart Robinson and R. Greenberg Associates. An appropriately pompous narrator details the life and times of Leonard Zelig, whose overwhelming desire for conformity is manifested in his ability to take on the facial and vocal characteristics of whomever he happens to be around at the moment. He shows up at batting practice with Babe Ruth, among William Randolph Hearst's guests as San Simeon, side by side with Pope Pius at the Vatican, and peering anxiously over the shoulder of Adolf Hitler at the Nuremberg Rally. Becoming a celebrity in his own right, Zelig inspires a song, a dance craze, and a Warner Bros. biopic. Mia Farrow plays Dr. Eudora Fletcher , a psychiatrist who tries to "reach" Zelig and ultimately falls in love with him (all of Farrow's scenes are in black-and-white and allegedly culled from archive footage; Ellen Garrison, whose resemblance to Farrow is uncanny, plays the older Dr. Fletcher in the interview sequences). In the manner of Reds, the influence of the fictional Leonard Zelig on popular culture is discussed by such real-life notables as Susan Sontag, Irving Howe, Saul Bellow and Dr. Bruno Bettenheim.
Audience Reviews for Zelig
A delightful, original and funny Woody Allen mockumentary that is most impressive due to Gordon Willis' spectacular cinematography and the technique employed to make it look like old film from the 1920s, with even the actors inserted into real archival footage from back then.
Carlos Magalhães
Super Reviewer
½
This mockumentary about a human chameleon who is able to change race, appearance, and professional demeanor at will is rather clever with the "archive footage," the smoooth 'n smarmy radio-voiced "narrator," and the "cameo interviews" with actual famous literati, but the movie tips on the tightrope of Woody Allen's slapstick inanity and Woody Allen's in-depth human analysis without ever transcending to the latter. I'm not one for blanket political correctness, but if you're gonna use blackface and slant-eyed make-up, you've gotta say something narratively relevant and not just treat it as a gag. There's so much social and cultural critique to be mined for both smart comedy and introspective pathos: people's prejudices toward different races, the knowledge of one's own race as the Other, the oftentimes unquestioned authority of those in respected professions, et cetera. The fictional Dr. Eudora Fletcher states that to the untrained observer, Zelig's faux-psychiatrist sounds realistic, but he's really just deploying cliched lingo. It would follow that Zelig adopts different stereotypical speech patterns for different races or classes, but all of this "research" is presented in silent "archive footage," not some tour de force bit of spoof acting like Robert Downey Jr.'s in "Tropic Thunder." Nothing changes within Woody or Zelig to actually BECOME or even inhabit another personality, which is sadly unsurprising since Woody Allen seems incapable of playing anyone other than Woody Allen. (And anyway, mimicking Dr. Fletcher is technically a plothole because Zelig's chameleonic power doesn't work with or on women.) Without grounding in what it actually means to "pass" as a different race, class, or other distinction, this lightweight premise and execution is almost as insulting as Woody's blind man bit in "Hollywood Ending."
Alice Shen
Super Reviewer
This is Woody Allen's funny, offbeat, and really cleverly hilarious mockumentary about Leonard Zelig, the "human chameleon"- a man with a multiple personality disorder so bad, he compulsively transforms into anyone that he is near. The bulk of the film is shot in the style of 1920s/30s newsreels, and follows Leonard through history as he does everything from show up to batting practive with Babe Ruth, appear at the Vatican with Pope Pius and stand behind Hitler at the Nuremberg Rally. Basically, this film pioneered the same concept and special effects later used to great effect and acclaim by Robert Zemeckis with Forrest Gump. This film is a lot funnier, more clever, and more zany, though. Besides his antics with mimicking people and showing up at various historical events, Zelig becomes a celebrity in his own right, and, while being treated and cured by Dr. Eudora Fletcher, he falls in love. This is a brisk, funny, very sweet, and terrific film. I loved the ideas and the execution. At a running time of 80 somehting minutes though, this feels really slight and the style seems to overrun the substance. The film does get slightly beneath the surface though, so it's not all fluff. It's not one of Woody's best, but I'd put it near the top of his B-Sides.
Chris Weber
Super Reviewer
Zelig Quotes
| | |
| --- | --- |
| Leonard Zelig: | "I have an interesting case. I'm treating two sets of Siamese twins with split personalities. I'm getting paid by eight people." |
| Leonard Zelig: | I have an interesting case. I'm treating two sets of Siamese twins with split personalities. I'm getting paid by eight people. |