Zen Noir
(2006)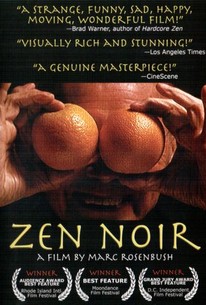 Movie Info
A death has occurred in a Buddhist temple, but in order to solve the crime, the nameless detective in charge of the investigation must let go of his logic and rely on the intuitive, non-linear world of Zen in director Marc Rosenbush's abstruse comic mystery. Still in mourning from the recent loss of his wife, the detective must first question Ed; a secretive monk whose bad attitude immediately raises a red flag. When subsequent discussions with chrome domed femme fatale Jane and the frustratingly obscure Zen teacher known as The Master appear to lead the detective in circles, he quickly realizes that he will not be able to rely on his usual investigatory procedures and must alter his line of thinking to better reflect his surroundings. But the murder isn't the only mystery here, and as the disheartened detective feels the presence of his deceased wife hanging thick in the monastery air, he soon realizes that there is a much deeper and intensely personal mystery to be solved.
Critic Reviews for Zen Noir
Audience Reviews for Zen Noir
Wow. You won't see ANY films like this. Completely original. Funny, mysterious, slightly disturbing. HIghly recommend. And, if you know anything about Zen Buddhism, a must see. This filmmaker has created a little work of art in Zen Noir. It takes you on a ride that is constantly throwing you off balance, and whacking your synapses in weird places, but in a humorous nearly loving way. He creatively merges the worlds of Film Noir and Zen Buddhism, and they blend together perfectly. You definitely leave with more questions than you went in with. I'd tell ya more, but I don't want to be a spoiler. Actually, I think this is unspoilable. I'm still not even sure what happened.
Cassandra Maples
Super Reviewer
Zen Noir Quotes
There are no approved quotes yet for this movie.