Zentropa (Europa)
(1992)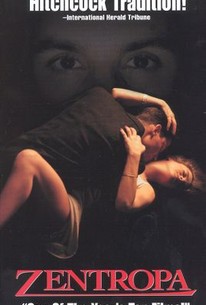 Movie Info
Europa (retitled Zentropa for the American release) is an hallucinatory Danish film set in postwar Germany. Jean-Marc Barr plays a young German who aspires for a job as a street conductor. But this is no mere "Joe Job;" Barr's adventures on the line are designed as a metaphor for the emergence of the "New Europe" following the war. Barbara Sukowa costars as the daughter of a railroad magnate--and possible Nazi sympathizer. Many of the special-effects sequences are computer enhanced, but even the "live" scenes have an unsettling, surreal quality to them (colors changing abruptly, backgrounds shifting without warning, etc.) This experimental film left some viewers confused, which may be why English-language prints of Zentropa are narrated by Max Von Sydow.
Critic Reviews for Zentropa (Europa)
Audience Reviews for Zentropa (Europa)
½
Wow, they hardly wasted any time in coming out with a prequel to 1990s "Europa Europa" and telling the grand tale of what happened before the second "Europa". That was lame, I know, but that might just be me being an ignorant American, because they released this film as "Zentropa" over here in the States so that folks didn't confuse it with "Europa Europa", something that ought to be easier to do than confusing this film with "The Element of Crime" or "Epidemic". Lars von Trier sure does love making up trilogies, because this is supposed to be the big capper to the "Europa" trilogy, and about the only major thing this series has in common is a placement somewhere in Europe. I'd sarcastically call that a stretch for von Trier, seeing as how he's so European that he's Danish, but looking at the Nazi jokes he made at 2011's Cannes, he must not be too self-respecting of a European, because that's something you should know to be careful with in Europe. Jeez, I'm just thinking that it's a good that he did this film 20 years before making those comments, because there is a lot of seemingly mixed emotions towards Nazism being portrayed here, or at least I think there is. Von Trier does really seem to be into painting anyone from Jews to Nazis like dirtbags, so it's hard to figure out who he sympathizes with, which is okay with me, I guess, so long as he keeps making decent films. Well, I'll at least settle for something that's better than "Epidemic", kind of like this film, which would be much better if it wasn't for some issues extending beyond confusing titles. There are plenty of distancing attributes to the characters in this minimalist and ostensibly character-driven drama, - from certain unlikable traits to reasonably believable, but still awkward alternating between English and German during dialogue - but it's an underexploration of attributes that is arguably most disconcerting, convoluting characterization by underdeveloping more than a few of the many characters who should drive substance. Such characterization issues, of course, reflect the film's placement of style over substance, which is annoying enough when you take out of account an unevenness in style, which finds the film going all about the place, trying to decide on the degree to which it takes liberties with its artistic license. Inconsistency in style stands, and matters are made more disconcerting by stylistic heights which momentarily and completely distance you from substance in a feat of artistic ambition that aims to bring some uniqueness and inspiration to a narrative of such limited consequence. Perhaps the subject matter is worthy, but the plot behind this film itself is just way too talky and minimalist, despite some convoluted layers, and its interpretation further retards momentum through dialogue and set pieces which are more draggy and repetitious than they ought to be. Of course, momentum is most stiffened within Lars von Trier's efforts, not as co-screenwriter, but as a director whose heights in directorial bite punctuate a consistent overt thoughtfulness that was never to be graced with too much material to draw upon, and therefore bores. The film is dull, plain and simple, perhaps not as much as the cold and largely unrewarding "Epidemic", but enough to betray potential that is limited enough to begin with, until the final product collapses as underwhelming, maybe even forgettable. With all that said, the film should hold enough of your attention to not squander your investment, especially if investment is placed in aesthetic value. Like plenty of Lars von Trier's efforts, this film boasts a visual style which is unique and captivating, nailing a 1940s filming style to immerse you in the time, and alternating between black-and-white and color in a manner that at least keeps consistent with taste in haunting warmth in lighting. The dynamicity of the film's visual style is debatable, but if nothing else is caught by this film through and through, it's your eyes, as it looks so unique and distinguished that it all but compensates for the familiarity of the story, whose thinness isn't exactly helped by an overt attention to style. No matter how much talking drives it, there's not a whole lot to talk about with this film's plot, but the themes, on the other hand, carry a lot of valuable weight, betrayed and brought to life by a thin and undercooked plot which is still meaty enough to establish weight, maybe even intriguing characterization. Well, as character-driven as this drama seems to be on paper, the characters are generally not too thickly drawn, although they are well-portrayed, for although acting material is, of course, limited by von Trier's and Niels Vørsel's minimalist scripting, most everyone is convincing enough in his or her subtle dramatic range to sell some of the depths of this ensemble piece with grace. Style draws on aesthetic value, whereas the performances draw on dramatic value, but the acting is still not quite outstanding, like many aspects in the film beyond the artistry, which still has plenty of questionable elements that threaten the final product with mediocrity. Von Trier ultimately saves the film from slipping to such a point, as director, because even though his thoughtfulness as storyteller doesn't have enough material to draw upon with intrigue, resulting in dull spells, when plot does, in fact, thicken, von Trier's plays on Joachim Holbek's soaringly tasteful score, haunting visuals, and sheer naturalist intimacy immerse, with tension, if not resonance. The film is quite compelling at times, and while such times are reached along a messy path, there's enough engagement value throughout the final product to make it stylistically and dramatically decent, if improvable. Overall, characterization gets to be questionable, as does style, in addition to draggy pacing and cold atmospherics which bland an already thin narrative to the point of firm underwhelmingness, well-challenged by exceptional style and promising substance, done enough justice by convincing performances and often effective direction to make Lars von Trier's "Europa", or, for us ignorant Americans, "Zentropa", a fair affair that does only so much as an art moral drama, but enough to get by. 2.5/5 - Fair
Cameron Johnson
Super Reviewer
i am not the biggest fan of von trier but with the recent controversy at cannes i thought i'd give one of his older films a watch. this is just stunning. shot in an ironic film noir style with many interesting effects, it explores the plight of post-war europe through the adventures of a hapless american train conductor. i found the voice over a little overbearing at times (sorry, max von sydow) but then i read it was added later for english language prints. among many beautifully shot scenes, the one of snow falling in the cathedral took my breath away...
Stella Dallas
Super Reviewer
A delightfully messy, misanthropic throwback to glossy 40s international melodrama. Think Casablanca with a mean streak. His triptych of a discontinuous, failed Europe ends here, in a far more accessible way than the visions seen in The Element of Crime or Epidemic - it's only upon careful scrutiny that the film reveals itself as truly bizarre. Time and space seem completely immaterial, as trains move backward and events rewind in surprisingly subtle ways. Lars von Trier puts forth unusual insinuations, that Europe and Germany are dream spaces where nothing seems to make sense, a widespread extrapolation of the mere mechanical failure that plagues the continent in The Element of Crime. Here, EVERYTHING has failed, not the least of which is Leopold Kessler, a starry-eyed idealist thoroughly shit upon at every turn. Meant to be a commentary on the gendered notions of idealism, and the man's attempt to seize power and subsequent failure, it's sort of difficult to watch. Jean-Marc Barr's performance is a little ridiculous, but you sort of get the feeling that von Trier wants it to be. Europa seems serious, but it's too glib to be taken completely at face value. You always get the idea that it's got something more to say than what's sitting at the surface/narrative level, and that justifies its idiosyncrasies. Even divorced of critical or auteurial theory, this is a fun watch, probably the most accessible of von Trier's movies. Highly original, visually captivating and finely observed, Europa will probably alienate viewers who are observant but not creative; everyone else should enjoy themselves thoroughly.
Drew Smith
Super Reviewer
Zentropa (Europa) Quotes
| | |
| --- | --- |
| Narrator: | In the morning, the sleeper has found rest on the bottom of the river. The force of the stream has opened the door and is leading you on. Above your body, people are still alive. Follow the river as days go by. Head for the ocean that mirrors the sky. You want to wake up to free yourself of the image of Europa. But it is not possible. |
| | |
| --- | --- |
| Narrator: | You will now listen to my voice. My voice will help you and guide you still deeper into Europa. Every time you hear my voice, with every word and every number, you will enter into a still deeper layer, open, relaxed and receptive. I shall now count from one to ten. On the count of ten, you will be in Europa. I say: one. And as your focus and attention are entirely on my voice, you will slowly begin to relax. Two, your hands and your fingers are getting warmer and heavier. Three, the warmth is spreading through your arms, to your shoulders and your neck. Four, your feet and your legs get heavier. Five, the warmth is spreading to the whole of your body. On six, I want you to go deeper. I say: six. And the whole of your relaxed body is slowly beginning to sink. Seven, you go deeper and deeper and deeper. Eight, on every breath you take, you go deeper. Nine, you are floating. On the mental count of ten, you will be in Europa. Be there at ten. I say: ten. |