Zero Hour!
(1957)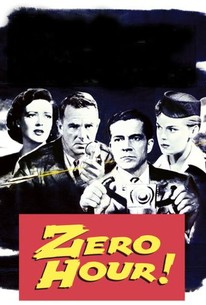 AUDIENCE SCORE
Critic Consensus: No consensus yet.
Movie Info
Fans of Zucker and Abrahams' blockbuster parody Airplane! who are curious to see the film's source of inspiration should check out this earnest 1957 thriller. The comedy writers practically lifted entire scenes and passages of dialogue from the original, yet carried everything to an absurd level to get belly laughs. Contemporary viewers who manage to push that spoof out of their minds may be surprised to discover that the inital picture works on its own terms; it has a neat, satisfying central arc, with Dana Andrews as an Air Force Veteran still scarred by memories of his slip-ups during the war. He gets a startling opportunity to redeem himself and his reputation (and repair his crumbling marriage) by assuming the controls on a doomed commercial flight. If he succeeds, it will mean saving the lives of two dozen ill passengers including his young son. The suspense in the picture is satisfactory; until the final scenes, we're entirely uncertain of the outcome. This film lacks the degree of psychological depth present in a few other nail-biters of the period, such as Alex March's Ransom, and the picture cuts out several minutes before it should, without letting us watch the events that follow the crisis itself and experience more satisfying character wrap-ups. But it's miles ahead of most of the elephantine disaster pictures that emerged in the 1970s. It's far from a great picture, but nonetheless a fun and competently made programmer that plays best on late night cable or in Saturday afternoon matinees.
Critic Reviews for Zero Hour!
All Critics (2) | Fresh (2) | Rotten (0) | DVD (1)
I give it props for being one of the first of the disaster airplane films.
Spoof classicity aside, the film is actually well-paced, fun to watch, and genuinely tense at times. It's a hit!
June 26, 2007 | Rating: 3.5/5
Audience Reviews for Zero Hour!
½
One of the first so called disaster movies centers around a plane full of passengers sick from food poisoning and a old army pilot named Ted Striker who is asked to bring it down safely but theres just a few problems bad weather and Ted has flashbacks from the war. if anyone has heard this plot before its cause this is the orignal movie that *Airplane* spoofed a bunch of years later except this isnt played for laughs not a great movie but not horrible either pretty decent amount of suspense yet overdramatic like most 50's movies.
½
A non-comedic version of and basis for Airplane! If you've seen Airplane! you'll laugh, but at the same time it's so campy you just may laugh anyway. Especially when Sterling Hayden says "looks like I picked the wrong week to quit smoking."
Michael Gildea
Super Reviewer
Zero Hour! Quotes
There are no approved quotes yet for this movie.