Zidane, un Portrait du 21e Siècle (Zidane: A 21st Century Portrait)
(2006)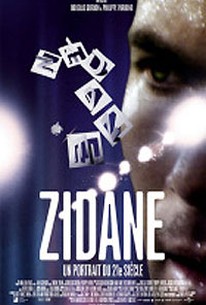 TOMATOMETER
AUDIENCE SCORE
Critic Consensus: Zidane, Un Portrait du 21E Siecle hits surprisingly few of the expected documentary beats, but the end result is still uniquely immersive.
Zidane, un Portrait du 21e Siècle (Zidane: A 21st Century Portrait) Photos
Movie Info
Acclaimed visual artists Douglas Gordon and Phillipe Parreno turn their attentions to filmmaking -- and one of Europe's leading soccer stars -- in this offbeat documentary. Zinedine Zidane is among the most celebrated athletes in European football; playing for Real Madrid, the Frenchman has earned a reputation for graceful yet aggressive play and a confrontational style. Gordon and Parreno have made a film about Zidane, but viewers of Zidane: A 21st Century Portrait will learn nothing about his life off the field, and only so much about his work on it. Instead of telling Zidane's life story, the filmmakers set up 17 cameras around the field (with the help of cinematographer Darius Khondji) for a April 23, 2005, game against Villarreal and carefully followed Zidane throughout the game, even when he wasn't in play. The subsequent footage was used to create a portrait in motion of the athlete, much in the manner of a painter or photographer, accompanied by excerpts from recorded interviews in which the footballer discusses his attitude toward the game and his feelings on the field. Zidane: A 21st Century Portrait (aka Zidane: Un Portrait du XXIe Siecle) was screened at the 2006 Toronto Film Festival as part of the Visions series, devoted to maverick filmmaking from around the world.
Critic Reviews for Zidane, un Portrait du 21e Siècle (Zidane: A 21st Century Portrait)
Audience Reviews for Zidane, un Portrait du 21e Siècle (Zidane: A 21st Century Portrait)
½
Oh my god, I hate this movie so much. It fails on every possible level. It's not an engaging portrait of a soccer player. It's not the chronicle of a fascinating sport. It's not even good cover of a soccer game. This is footage of a guy running around or, when he's not, shouting or, when he's not, milling around. From 17 angles, no less. Why this is called a "21st century portrait", I'll never know. If it's meant to show us the real Zidane, why make a point of silencing his voice? If we're meant to see a master on the field, why not pick a game where he has more to do? This movie seems to be very securely anchored in time, but why then not cover THE GAME itself as best you can? In which case, focus those damned cameras on the freaking BALL. You want to emphasize a human star in this game? Then why not shoot every player equally and make your film out of the man who's the most active? What the filmmakers have successfully made here is a huge, long and rich film where nothing frickin' happens. Nothing happens in close up, and then nothing happen in wide shots, then nothing happens on video, then nothing happens in HD. Then something ALMOST happens, then something happens offscreen, when nothing happens on crummy, eye-bleed video. This is such a big pile of nothing.
Emily Armstrong
Super Reviewer
This is an experiment. Filming Zinedine Zidane during a regular football match during his time with Real Madrid, with 17 cameras, watching each and every of his moves and sometimes showing quotes by the man. That's probably a feast for his fans and followers, but hardly watchable even for regular football fans. The first 20 minutes nothing happens, whatsoever, and the rest of the game isn't exactly a classic either. Zidane walks around a lot, sometimes shows glimpses of his amazing talent. Once Mogwais fantastic soundtrack comes into play and Zidane gets more and more agitated about the game, things do get more interesting. Ironically the movie ends with him being sent off with a red card. For Fans only. But maybe I did it injustice when I started chatting while watching this after 20 minutes.
Zidane, un Portrait du 21e Siècle (Zidane: A 21st Century Portrait) Quotes
There are no approved quotes yet for this movie.