Ziemia Obiecana (Land of Promise) (The Promised Land)
(1975)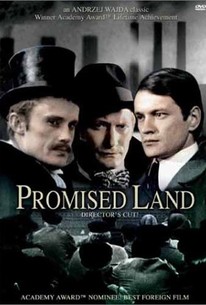 AUDIENCE SCORE
Critic Consensus: No consensus yet.
Ziemia Obiecana (Land of Promise) (The Promised Land) Photos
Movie Info
Based on a true story, this film focuses on three Polish laborers of vastly different social, cultural, and ethnic backgrounds. Unlike many of their recalcitrant contemporaries, the three men overcome their differences and work together. Eventually they create a textile factory founded upon the edicts of equality, trust, and respect.
Critic Reviews for Ziemia Obiecana (Land of Promise) (The Promised Land)
All Critics (2) | Fresh (2) | Rotten (0) | DVD (1)
Perhaps when you can best sense Andrzej Wajda's genius is in his ability to be cold and distant when he feels and wants it; a militant witness, or satirical and mocking at times, without losing the thread of the narrative. [Full Review in Spanish]
The epic works as an observant and cynical look at Poland's social classes and industrialization.
Audience Reviews for Ziemia Obiecana (Land of Promise) (The Promised Land)
½
Written and directed by Andrzej Wajda, "Promised Land" is a sprawling epic and graphic critique of laissez-faire capitalism. The pacing is not sedate like other period pieces. Rather, the movie set in 1885 in Lodz, Poland moves back and forth smoothly and quickly between workers and owners with a focus on Karol Borowiecki(Daniel Olbrychski) who manages a mill for Bucholz(Andrzej Szalawski) with ruthless efficiency, taking a second to mourn the loss of a worker's life before complaining about the damage to the fabric from the spilled blood. Only Horn(Piotr Fronczewski), a junior accountant, makes a statement in protest. Karol dreams of opening his own factory with his friends Moryc(Wojciech Pszoniak) and Maks(Andrzej Seweryn) at a time when the local mills are experiencing a time of great turmoil, especially with the tariffs being raised. So rough is the economy, that some mill owners are burning down their mills for the insurance money. Karol politely declines to help one friend who refuses to go the arson route, killing himself instead. His personal life is just as busy as his professional life as he juggles the attentions of three women - nouveau riche Mada(Bozena Dykiel) for the money, Anka(Anna Nehrebecka) for Poland and married Lucy(Kalina Jedrusik) who he should steer well clear of and is of course the most drawn to.
Ziemia Obiecana (Land of Promise) (The Promised Land) Quotes
There are no approved quotes yet for this movie.