Zombie (Zombi 2)
(1980)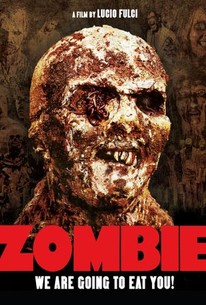 Movie Info
This audaciously disgusting spectacle from the late master of gruesome horror, Lucio Fulci, was posited as a semi-sequel to George Romero's Dawn of the Dead, which was released in Italy as Zombi. Tisa Farrow and a group of vacationing tourists travel to an island where they find a doctor (Richard Johnson) who is attempting to cure a condition that reanimates the dead. Things quickly get out of control as undead Spanish conquistadors crawl from their graves hungry for human flesh. The nauseatingly graphic set-pieces by Gianetto de Rossi include a close-up of a woman's eye being pierced by a large shard of wood and a zombie fighting a Great White shark underwater. This relatively well-made shocker was enormously popular worldwide and led to the zombie-gore film becoming the dominant motif of 1980s Italian horror. ~ Robert Firsching, Rovi
Critic Reviews for Zombie (Zombi 2)
Audience Reviews for Zombie (Zombi 2)
There is absolutely no point in trying to make any sense of this ridiculous, trashy movie (which is not even a sequel of anything despite its title), and so I guess the best thing to do is just enjoy the great score (really, it is great) and those laughable gory scenes.
Carlos Magalhães
Super Reviewer
For extended periods, the viewers are actually expected to endure excursive discussions on the voodoo origins of zombies and a doltish mystery around the disappearance of a boating enthusiast. Granted, the dropsical gore is astonishingly revolting and the makeup of the decaying zombies (with maggot-infested skulls and shredded flesh) is effectively decomposing. What should the centerpiece is an underwater scuffle between a shark and zombie is not particularly epic mostly due to the languid pacing and soft soundtrack. The solitary chilling scene is the excruciating buildup of a zombie stalking a woman through the a tropical-paradise hotel room until he effortlessly breaks through a door and slowly wrenches her eyeballs into a wooden splinter. Other than the fact that is an Italian production and set on a beach, the mayhem is a rehashed dish of Romero.
Cory Taylor
Super Reviewer
Zombie (AKA Zombi 2 or Zombie Flesh Eaters) is considered to be one of the best zombie movies ever made while at the same time it branded Lucio Fulci as the Italian king of splatter. The film is very gritty and extremely unpleasant in places, even by today's standards. The eye-gouging scene and underwater zombie vs. shark scene are particularly memorable, as is the film's opening bit which has been imitated in both films and video games. The score for the film is extremely good. A sort of dark and depressing funeral dirge mixed with shock cues and themes make it very haunting. The make-up for the film is also very impressive, particularly the zombie make-up. I rather like the zombies in this film more than any of the others only because they seem completely void of humanity. They remind me much more of the zombies from the films of Jacques Tourneur (perhaps it's the voodoo). They move slowly, make little to no noise and the only major movement that they make is to lunge out and devour. I find that to be very effective and unique - almost like an animal of some sort. The movie is also very-well photographed and framed and the desaturation of the color palette only adds to the grittyness and dark feel. The film went on to spawn several sequels and spin-offs (none directly related to this film's storyline), while at the same time being a sequel to Romero's Dawn of the Dead in Italy. It went critically unnoticed for years because of this but has gained a cult status and gotten much more attention by film fans, gore hounds and just horror film fans in general, and for good reason. Zombie is one of the elite quintessential zombie movies and faithfully follows throuogh on its tag line: "We are going to eat you!"
Tim Salmons
Super Reviewer
Zombie (Zombi 2) Quotes
There are no approved quotes yet for this movie.