Zombie Nightmare
(1986)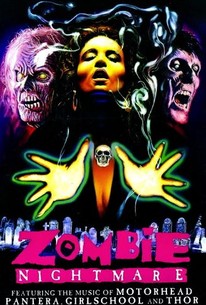 AUDIENCE SCORE
Critic Consensus: No consensus yet.
Movie Info
When a teenage boy is cruelly murdered by his evil peers, a voodoo master brings him back to life as a zombie to exact his revenge.
Critic Reviews for Zombie Nightmare
There are no critic reviews yet for Zombie Nightmare. Keep checking Rotten Tomatoes for updates!
Audience Reviews for Zombie Nightmare
The new MST3K Netflix original has been released and I decided to expose myself to some of the old episodes available for streaming on Hulu and Netflix (there is a different random selection on each platform). Whether it is Joel or Mike watching these awful movies with the bots I do not envy the torture they are put through. Their snarky comments add some entertainment value, but my ratings are based on the movie's quality itself and not the extra material broadcast from the satellite of love. Adam West plays it straight as an inept police captain in this 80s horror schlock. The strangely buff zombie and draw of the sexy "teens" (like Tia Carrere early in her career) are not enough to keep this mess engaging.
Byron Brubaker
Super Reviewer
Zombie Nightmare is about a softball player who is hit by a car and killed. He is then brought back to life by a voodoo priestess. He takes out his revenge on those who killed him. There are cops involved and some stuff. Zombie Nightmare is a film more terrible than the description I just wrote, a film so poorly executed, written, directed, and acted that it has become the stuff of legend for almost thirty years. When I stumbled on this film I didn't know MST3K had riffed it long ago, which the filmmakers should be thankful for because that means it shall live forever, if not in the way they wanted. Adam West gets top billing. He's in the film less than 10 minutes. Motorhead get a major credit for music. The Ace of Spades plays over the credits with the rest of the soundtrack being mid '80's death metal of the blech sort. Tia Carrere, pre Wayne's World is in this and actually gets screen time, but is not the vixen on the cover of the film. So now that we've gotten that out of the way, let's actually talk about the movie. If you like your movies padded then this is the one for you. We get some driving, some more driving, a mediocre chase in a gym, yadda, yadda, yadda. It's the typical stuff that pads a movie from student film to feature length. The acting? Well, when Adam West is your best actor, that about sums it up. Ugh, this movie is so bad I don't even want to talk about it anymore. The writing sucks, the plot twist is predictable, and the only meaningful experience you can have with this film is making fun of it. I think I've written a review as terrible as the film.
Chris Garman
Super Reviewer
½
A horrible zombie movie, the story and all the characters are stupid. The only star is Adam West, and he doesn't get a big role anyway. I hated this movie.
Zombie Nightmare Quotes
There are no approved quotes yet for this movie.