Zombieland
(2009)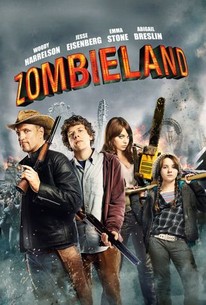 Movie Info
A cowardly shut-in named Columbus (Jesse Eisenberg) is forced to join up with a seasoned zombie slayer named Tallahassee (Woody Harrelson) in order to survive the zombie apocalypse. As Tallahassee sets out on a mission to find the last Twinkie on Earth, the duo meets up with Wichita (Emma Stone) and Little Rock (Abigail Breslin), two young girls who have resorted to some rather unorthodox methods to survive amidst the chaos. Reluctant partners in the battle against the undead, all four soon begin to wonder if it might be better to simply take their chances alone. ~ Jason Buchanan, Rovi
Critic Reviews for Zombieland
Audience Reviews for Zombieland
A highly enjoyable and funny zombie road movie that blends ironic comedy and gore fest in a way that will make you laugh out loud in many improbable moments. Also, Bill Murray and Woody Harrelson are hilarious, and I really love the soundtrack.
Carlos Magalhães
Super Reviewer
This movie has many things I love: it's a zombie movie, it's a road movie, it's a horror comedy, it's gory, but at the same time, it has some substance, but it's not overbearing. Mostly this movie is just really fun and hugely entertaining, which is probably the most important factor. The script is decent, and contains the right amount of wit and quirk without seeming derivative. There's sone real cleverness with the title sequence and the presentation of Columbus' "rules"-they are flashy, yet remain the punctuation, not the sentence. The performances are great. Each player is perfect for their respective roles. Jesse Eisenberg rivals only Michael Cera for the king of deadpan geeky quirk. Harrelson is having the time of his life, and Stone and Breslin prove that chicks can be pretty and kick ass, too. It isn't for me as good as Romero's stuff or Shaun of the Dead, but it takes the best from each camp, and makes it into its own little thing. The wonderful not quite a surprise cameo around the middle definitely serves as the cherry on top of a beautiful mound of ice cream, but the soundtrack kicks much ass as well- especially the usage of one of my favorite songs by one of my favorite bands during the opening credits sequence. Obviously I recommend this movie, so do yourself a favor, and check it out. There are far worse ways to spend a night at home.
Chris Weber
Super Reviewer
Its nice to see another Zombie/Comedy film after the success of 'Shaun of The Dead'. Featuring a superb cast of Woody Harrelson, Jesse Eisenberg, Emma Stone and a fantastic cameo from *SPOILER REMOVED*. 'Zombieland' also features both creepy scenarios and nice humour. For those who are any form of zombie fan, this is a nice guide for surviving the undead.
Samuel Riley
Super Reviewer
Zombieland Quotes
| | |
| --- | --- |
| Tallahassee: | I've never been good with farewells so... That'll do, pig. |
| | |
| --- | --- |
| Tallahassee: | I hate coconut! Not the taste, the consistency. |
| | |
| --- | --- |
| Columbus: | Yeah, I shave every morning but sometimes by like 4:30 I'll have a thing. I mean, I know it's called a five o'clock shadow but sometimes I'll get it prematurely. |
| | |
| --- | --- |
| Columbus: | Don't let them catch you with your pants down. |