Zombies Zombies Zombies: Strippers vs. Zombies
(2008)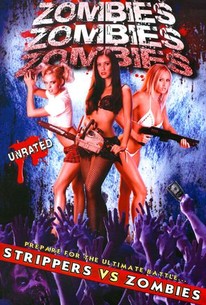 AUDIENCE SCORE
Critic Consensus: No consensus yet.
Movie Info
It's street-smart strippers versus flesh-eating zombies after a drug experiment gone horribly awry unleashes a plague of the gut-munchers on the unsuspecting citizens of a heavily populated city. Now, as the legions of the undead lay siege to an urban gentleman's club, it's up to a small band of fierce exotic dancers to aim for the head and keep any exposed flesh from the gnashing teeth of the living dead. Those aren't crack whores in that darkened alley, those are crack-whore zombies in search of their next cannibalistic fix!
Critic Reviews for Zombies Zombies Zombies: Strippers vs. Zombies
Audience Reviews for Zombies Zombies Zombies: Strippers vs. Zombies
Im not sure when or why zombies and vampires in the movies started producing screams like those of tigers getting their claws clipped with garden shears, but im almost positive this movie's zombies are a little more reserved than that. and in the case that im wrong, then this movie is a piece of shit, BUT that is only because i was distracted by the wonderful acting in the film by stripper #4 and stripper #5.
Coxxie Mild Sauce
Super Reviewer
Oh dear, doesn't get much worse than this. The whole production is awful. The acting is terrible, awful script. Effects were not even up to a shoe string budget! Avoid, avoid, avoid!
You may know this crapfest better as Zombies vs Strippers (or Strippers vs. Zombies). Intolerable acting, continuity problems abound, terrible CG, "zombies" without any makeup, blood the color of syrup, intolerable acting. And none of this falls under the "so bad it's good" file. Hell, there's not even that many titties, and that's usually the only damn thing these crap movies are about. The thing that irks me most is the movie begins by showing a scene of a poorly done zombie movie on TV, and a chracter remarks summat to the effect "WHo makes this garbage?" I thought the movie would then proceed to do all the right things after demonstrating all the wrong things. NOPE. Just even more wrongness. And I am convinced this is not hidden satire-parody a la Re-Animator. No this is just shit on shit. AVOID AVOID AVOID
_kelly .King
Super Reviewer
Zombies Zombies Zombies: Strippers vs. Zombies Quotes
There are no approved quotes yet for this movie.