Zoolander
(2001)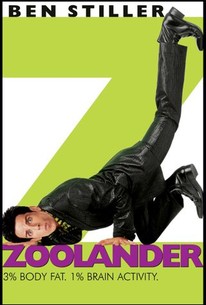 TOMATOMETER
AUDIENCE SCORE
Critic Consensus: A wacky satire on the fashion industry, Zoolander is one of those deliberately dumb comedies that can deliver genuine laughs.
Movie Info
Comic actor Ben Stiller co-wrote, directed, and stars in this spoof of the fashion industry that began as a short skit for the 1996 VH1 Fashion Awards. Stiller is Derek Zoolander, an intellectually challenged but bone structure-blessed male model who's despondent after being eclipsed in popularity by an equally vacuous rival, Hansel (Owen Wilson). Upon his reluctant retirement, Derek is invited to a day spa by previously standoffish fashion designer Jacobim Mugatu (Will Ferrell), where the befuddled model is brainwashed by the mysterious Katinka (Milla Jovovich) into assassinating the prime minister of Malaysia. In addition to Stiller's real-life wife Christine Taylor, Zoolander co-stars his father Jerry Stiller, along with Jon Voight, David Duchovny, Andy Dick, and Fabio. ~ Karl Williams, Rovi
Critic Reviews for Zoolander
Audience Reviews for Zoolander
½
A solid and entertaining satire that makes fun of the fashion world and the people involved in it (even though in a very obvious way) with many inspired moments, including a hilarious gas station explosion and a priceless "walk-off" scene with David Bowie as judge.
Carlos Magalhães
Super Reviewer
"Zoolander" is essentially a showcase for the comedic talents of these famous actors through their glory days, and it definitely does not fall short on the gags. Ben Stiller and Own Wilson both had me laughing hysterically, even though the dialogue they were saying was so incredibly dumb. It does work in the context of the film though. The basic story of this film is that Ben Stiller's character, being the dumb male model that he is, needs to retain his title of the worlds best, because it is really all he has in life. There is a sweet undertone beneath these elements as well that I really enjoyed. The one word I cannot wrap my head around while explaining this film, however, is stupid. "Zoolander" is a tremendously stupid picture that encapsules idiots in the most bizarre scenarios. Did I enjoy the hell out of this film? Absolutely! Is it great? Absolutely not!
½
Hansel: I wasn't like every other kid, you know, who dreams about being an astronaut, I was always more interested in what bark was made out of on a tree. Richard Gere's a real hero of mine. Sting. Sting would be another person who's a hero. The music he's created over the years, I don't really listen to it, but the fact that he's making it, I respect that. I care desperately about what I do. Do I know what product I'm selling? No. Do I know what I'm doing today? No. But I'm here, and I'm gonna give it my best shot. "3% Body Fat. 1% Brain Activity." Zoolander is a bizarre, silly, and pretty funny film. I don't really know how to feel about it. There was a lot of laugh out loud satire of the whole model/fashion industry, but there was also some scenes that just made me say, "What the fuck?" I'm sort of in the middle here, not really liking the movie, but not disliking it either. Weird. Derek Zoolander is the biggest star in male modeling, and also the stupidest. When a new prime minister in Malaysia ruins the fashion business by actually giving good wages to workers and abolishing child labor, Mugatu, the biggest fashion designer, plans to brainwash Zoolander into assassinating the Malaysian pm.  There's some good stuff in this movie. I really liked the David Duvanchy scene. There's some truly hilarious material in the film, if only there wasn't ten minutes of weird and unfunny material to sit through before getting to the scenes and dialogue that actually worked. In the end, Ben Stiller and Owen Wilson make the film enough fun to warrant a watch. I still don't know what to think of it though.
Melvin White
Super Reviewer
Zoolander Quotes
| | |
| --- | --- |
| Jacobim Mugatu: | Destroy the Prime Minister of Malaysia! |
| | |
| --- | --- |
| Mugatu: | I feel like I'm taking crazy pills! I invented the piano key necktie, I invented it! |
| | |
| --- | --- |
| Hansel: | Why don't you Derelick... my balls? |
| Derek Zoolander: | I can Derelick my own balls, thank you |
| Derek Zoolander: | I can Derelick my own balls, thank you. |
| | |
| --- | --- |
| Mugatu: | There the same damn look! |
| Jacobim Mugatu: | They're the same damn look! |