Zoom
(2006)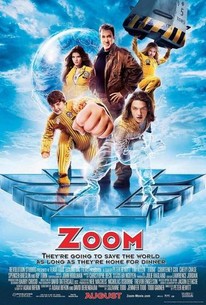 Movie Info
Former superhero Jack is called back to work to transform an unlikely group of ragtag kids into superheroes at a private Academy.
News & Interviews for Zoom
Audience Reviews for Zoom
I laugh at myself for sort of enjoying this film while it is on, but then I think back to when I was watching it and I stand in shock. Did I really enjoy this film? Yes! Yes, sadly I did, but it is an awful film all around. So here I am, liking every actor in a terrible movie, with horrific effects and a bad enough story that it's almost too dumb for kids. I must say that this "Superhero" flick is one of the worst of it's kind, but one of my many guilty pleasures that I can somehow watch over and over again, and I hate myself for that. In the end, there is nothing that comes from this short 80-minute train wreck. "Zoom" sucks and I love it!
This got 50+ ratings? Are you kidding me? This movie was such a crap.
Dead Angel
Super Reviewer
"They're going to save the world . . . as long as they're home for dinner" Former superhero Jack Shepard, (also known as Captain Zoom), is called back to work to transform an unlikely group of ragtag kids into a new generation of superheroes at a privacy Academy and save the world from certain destruction. The project holds an audition of would-be members, most of whom possess useless or disgusting powers. In the end, Dylan, a 17-year-old boy who can turn invisible Summer, a 16-year-old girl with telekinetic powers Tucker, a 12-year-old boy with the power to enlarge any part of his body Cindy, a 6-year-old girl with super strength. "Zoom" is a kids' superhero flick based on the novel "Zoom's Academy" written by Jason Lethcoe. In it, Tim Allen stars as a has-been superhero who's tasked to train four young superheroes to battle a nemesis. With that, you pretty much know what to expect. Unfortunately, that's all. While the film has all what comprises a prototype of this milked-dry genre, the experience is overtly familiar and dull. Jack Shephard (Allen... nope, not Matthew Fox) was Captain Zoom, a superhero who can travel at superhuman speeds, and one of the members of the military-sponsored superhero group "Team Zenith." But he has since lost his powers after a military experiment has gone awry that also has his teammates killed. 30 years later Jack is brought back to train four youngsters with superpowers when a new malevolent threat from the past emerges. First of all, the script of Adam Rifkin and David Berenbaum doesn't attain new heights with their blunt dealing of a theme that's been done more excellently with "The Incredibles" and "Sky High." And director Peter Hewitt ("Garfield"), who clearly isn't exactly a master storyteller himself, has little to work from with such a dull and hollow material. All of the characters are perfunctory parts rather than humans portraying genuine conflicts. Also, for a film that's called "Zoom," the film drags: it lacks a sufficient amount of action. We're supposed to see the kids train, but all we're mostly shown are unfunny attempts at slapstick humor that the filmmakers assume would elicit laughters from the little tots among the audience (uhm, Courteney Cox tripping down and Chevy Chase getting slime on his face, anyone?). What constitutes for training involve at the most paint balls and a drive-thru chaos at a Wendy's restaurant. Yes, there's the climactic fight sequence at the end but it's too quick, unexciting, and not enough by a mile for a film that has terribly dragged along. Ultimately, what transpires is a terribly unfunny movie that wears out its welcome faster than its main character runs.
Lorenzo von Matterhorn
Super Reviewer
Zoom Quotes
There are no approved quotes yet for this movie.