Arrow: Season 3
(2014-2015)
SEASON: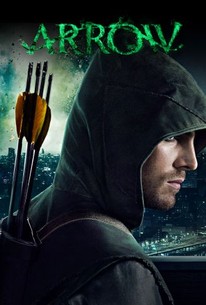 Tv Season Info
The Season 3 adventures of Arrow (based on DC Comics hero Green Arrow) find Starling City embracing Oliver Queen (Stephen Amell) as a hero in the wake of Slade's defeat. But, all is not well, as numerous adversaries quickly assault Queen and the city. Notably, he faces a cyber-terrorist and an obsessive stalker who dresses her victims in clothing to match the Arrow. Most seriously, though, a friend is murdered, and when the League of Assassins threaten to kill citizens of Starling City if the murderer isn't found, Queen finds himself in a life-or-death battle. Elsewhere, he and Felicity (Emily Bett Rickards) acknowledge their feelings for each other, but Queen is hesitant to make a commitment. Also, Arrow teams up with his friend the Flash (Grant Gustin) to stop a boomerang-wielding killer.
News & Interviews for Arrow: Season 3
Audience Reviews for Arrow: Season 3
Incredibly ambitious, Season 3 of Arrow is extraordinarily daring and action-packed. This season Oliver Queen runs afoul of Ra's al Ghul, industrialist Ray Palmer takes over Queen Consolidated and develops a secret weapons project, and Laurel Lance trains to become the new Black Canary in the wake of her sister's death. Additionally, there are several crossover episodes with The Flash spin-off series that are quite exciting. However, the show's format of having a flashback B-story throughout the season is wearing thin and doesn't really work this time (as it feels especially contrived). And, the direction that the show is headed in is rather dubious; with the "Arrow" persona having been burned by Ra's' war with Queen. Reaching a little beyond its grasp, Arrow's third season falls a bit short, but it's still tremendously entertaining and is full of thrills.
This is why I always take Rotten Tomatoes scores for TV seasons with a grain of salt. There is no way this season of Arrow gets a 100%. This season is where the show hit a bump in the road and instead of plowing through, it got way too confident and jumped off the rails and crashed into a school bus. Even though this is a superhero show and you have to suspend belief for some things that happen, this show is so off track from the tone that was set in the first two seasons that I deleted it off my DVR and have no interest in watching the show again. Also, the continued flashbacks are really weighing on everyone.
½
It's very hard to live up to the brilliance that we got in the second season, and while the third season isn't as good as the second, it's just as interesting, if not more. With new characters like the very likeable Ray Palmer, played by former Superman actor Brandon Routh, and the very evil Ra's al Ghul, played by Matt Nable, this show adds something special that actually lacked a little bit from previous seasons. The show starts out in a very dark way and it continues to the very end. John Barrowman returns for real this season and every time he is on the screen, he completely shines and he is actually the character who probably have the biggest character arc in this entire season, and that comes from a season where EVERYBODY have a character arc! Even though this isn't the perfect follow-up to season two, it's still a really good one.
Discussion Forum
Discuss Arrow on our TV talk forum!