Atypical: Season 1
(2017)
SEASON: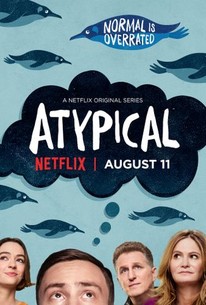 TOMATOMETER
AUDIENCE SCORE
Critic Consensus: Great performances and a likable, realistic family dealing with autism lift Atypical above its alarming tonal shifts and predictability.
Atypical: Season 1 Videos
Atypical: Season 1 Photos
Tv Season Info
Sam Gardner (Keir Gilchrist), an 18-year-old on the autism spectrum, tells his overprotective family that he wants to start dating. His father Doug (Michael Rapaport) is at first enthusiastic and encouraging until he discovers that the girl Sam wanted to date is his much-older therapist Julia Sasaki (Amy Okuda). Realizing that her boy is finally growing up, Sam's mother Elsa (Jennifer Jason Leigh) finds herself at loss with what to do and tumbles into an affair with a bartender, Nick (Raul Castillo). Sam's younger sister Casey (Brigette Lundy-Paine) lands an athletic scholarship at a prestigious but faraway high school. However, she hesitates to take the scholarship, believing that her leaving will negatively affect Sam. The first season of "Atypical" also stars Nik Dodani as Sam's best friend Zahid, Jenna Boyd as Sam's pretend girlfriend Paige, Graham Rogers as Casey's boyfriend Evan, and Rachel Redleaf as Evan's sister Beth.
News & Interviews for Atypical: Season 1
Audience Reviews for Atypical: Season 1
½
Keir Gilchrist gives a sensitive portrayal as Sam, an 18-year-old high-functioning autistic boy who is in his senior year of high school. As an amateur screen writer, I understand how enormously difficult it is to write about an autistic child without having clichés. Atypical does not make the viewer suffer through stereotypical clichés, and gives a fresh view on kids who suffer with autism. Sam obsesses over penguins; he knows when he's being bullied but doesn't understand why; he feels love but cannot define it. He wants to get laid. Sam speaks in a deadpan emotionless drawl, and is often brutally honest. His best friend looks like a nerd with a mop of black hair and too-big glasses, but he walks around as if he's a super cool stud, and he blows kisses at women who roll their eyes at him, and gives Sam's mother hugs that are too long. Sam's mother, played by Jennifer Jason Leigh (who was a teen-actress in 'Fast Times at Ridgemont High') is too tense and uptight, living only to care for her autistic son, often ignoring or taking for granted her healthy 15-year-old athletic daughter. She is taken for granted by her teen-aged kids, which is rather typical, but thus begins an affair, which seems out of character, because she seems to live for her son. Sam's father is a big teddy-bear-of a goof. He seems mentally challenged a bit, out of it, sweet but stupid, but over-all a good guy. He "gets" his daughter, where his wife does not. The most interesting and unique character is Sam's little sister Casey, a sophomore and an athlete. She can be tender-hearted and cruel. She punches a high school bully, then yells at Sam's friend when she fears this friend may abandon her brother. She tells her mother she's lame, but then confides in her that she is not having sex with her boyfriend. She teases her brother and pushes his buttons to the limit, but lets no one else do this. She's hard to get with her boyfriend, then is so very vulnerable to him. She lets no one walk over her and doesn't take any crap, but then she cries when her friends pull a mean stunt on her. She's convincing in her role. She's tough, vulnerable, kind, brutal, and smart. I was immediately drawn into this show due to the depiction of the four family members. I also enjoyed the clingy but endearing and sincere girl that Sam gets close to. I did have a problem with Sam's therapist. She seemed too young to give such advise, and she did a role-reversal half-way through the first season (must omit... no spoilers here). All in all, I enjoyed binge-watching 'Atypical.' I started watching it Friday night and finished the first season Saturday around midnight. At first, I thought this show was a drama, but then it seemed to be more of a comedy. It kind of toggled between the two. But I'm glad that I finally found a show that isn't too dark so I can fall asleep, and isn't too dumb like too many shows are, and also, it gives some insight into the world of autism. I anxiously wait for Season Two.
Discussion Forum
Discuss Atypical on our TV talk forum!