SEASON: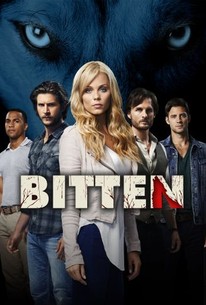 AUDIENCE SCORE
Critic Consensus: No consensus yet.
Tv Season Info
Based on The New York Times best-selling novels by Kelley Armstrong, Season 2 of the series "Bitten" continues the story of Elena Michaels (Laura Vandervoort), the only female werewolf in existence. Though she's abandoned her Upstate New York-based wolf pack for a new, normal life in Toronto, Canada, her connections to the pack remains strong. The second season begins with the pack trying to locate Malcolm (James McGowan), the father of werewolf leader Jeremy (Greg Bryk), after it's discovered the elder has broken ties with the group and embarked on a mission to rid the world of its lone female werewolf. Over the course of the season, the pack aligns with a coven of witches to overthrow a rogue warlock (Sean Rogerson) who has resolved to take over the Otherworld.
All Critics (2) | Fresh (2) | Rotten (0)
Bitten has become a true ensemble series, with each wolf in the pack seeming to hold the same weight rather than the focus being on Elena, the only female werewolf.
As I've mentioned in past reviews, one thing that I really enjoyed about this season was that they actually gave some of depth to some previously vapid characters.
Audience Reviews for Bitten: Season 2
½
Bitten expands its mythology with the introduction of witches in the second season. After the attack on Stonehaven the Alpha Council questions Jeremy Danvers' ability to lead his pack, and in order to put his house in order he's forced into an unlikely alliance with a coven of witches and soon discovers a common enemy that threatens them both. Bringing witches into the mythology is exactly what the series needed; as the werewolf mythos just wasn't that interesting and is pretty nonsensical. Witchcraft however, allows the show to explore more of the supernatural and has less built-in limitations. The Elena and Clay romance plot, on the other hand, doesn't work at all and comes off as extremely forced and overdramatic. Still, Laura Vandervoort gives a strong performance, and recurring guest stars Tommie-Amber Pirie, Sean Rogerson, and Kiara Glasco are quite good and bring new energy to the series. Thrilling and action-packed, Season 2 of Bitten is a definite improvement over the first.
Discussion Forum
Discuss Bitten on our TV talk forum!