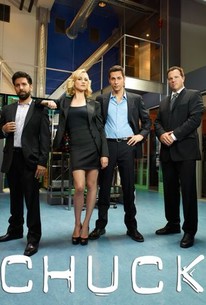 Critic Consensus: No consensus yet.
Series Info
From executive producer, Josh Schwartz ("The O.C.") and executive producer-director McG ("Charlie's Angels," "We Are Marshall") comes a one-hour, action-comedy series about Chuck Bartowski (Zachary Levi, "Less Than Perfect") -- a computer geek who is catapulted into a new career as the government's most vital secret agent. When Chuck opens an e-mail subliminally encoded with government secrets, he unwittingly downloads an entire server of sensitive data into his brain. Now, the fate of the world lies in the unlikely hands of a guy who works at a Buy More Electronics store. Instead of fighting computer viruses, he must now confront assassins and international terrorists. With the government's most precious secrets in Chuck's head, Major John Casey of the National Security Agency (Adam Baldwin, "My Bodyguard") assumes the responsibility of protecting him. His partner is the CIA's top agent (and Chuck's first date in years), Sarah Walker (Yvonne Strzechowski, "Gone"). They'll try to keep him safe by trading in his pocket protector for a bulletproof vest. Also starring are Joshua Gomez ("Without a Trace") as Morgan, Chuck's best buddy, and Sarah Lancaster ("What About Brian?") as Chuck's ever-supportive sister, Ellie.
Discussion Forum
Discuss Chuck on our TV talk forum!