Gotham: Season 1
(2014-2015)
SEASON: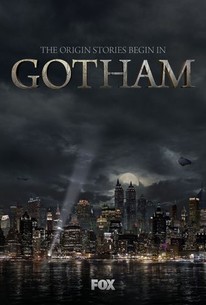 TOMATOMETER
AUDIENCE SCORE
Critic Consensus: High production values, a talented cast, and an appealingly stylized approach to the Batman mythos help Gotham overcome its occasionally familiar themes.
Tv Season Info
An action-drama series following rookie detective James Gordon as he battles villains and corruption in pre-Batman Gotham City.
News & Interviews for Gotham: Season 1
Audience Reviews for Gotham: Season 1
½
When you have a show that is set in the same universe as the great Batman mythos that we read about in the comic-books, you really need to get the scent of Gotham City and the criminality real, and this first season truly does. With heroes that really feel real and villains that truly are scary and threatening, the show managed to bring forth the soul that the city had in the comics. Where the show is at its strongest, is when it comes with the tie-ins to many of the villains from the comic-book and even the new ones like Fish Mooney, played brilliantly by Jada Pinkett Smith. Where the show lacks, however, is with the tie-ins to Bruce Wayne who wants to find his parent's killer. That is by far the worst parts of the show, but luckily, with brilliant writing and great characters, it always managed to get back on a good and well-formed track.
I just started watching this amazing TV show last week and I've already finished the whole season. The TV show episodes are always a mystery and always seem to keep my attention. My only complaint from a comic standpoint is that they completely mess with the original character thus creating a new but not necessarily a bad change. I thought the TV shows score should be in the 90% area.
We are now two episodes into the darkly somber prequel series Gotham, the city of Batman where he is simply Bruce Wayne, a child whose parents are murdered before his eyes. No, this is not a spoiler. Batman's origins have been known since DC Comics first released a Batman issue in the 1940's, and of course, who can forget the iconic Batman trilogy with Christian Bale from the past decade. That goes without saying, Michael Keaton, George Clooney, and Val Kilmer all have their Batman installments from the 90s. And yet, Gotham has an ambiance all its own—something to be grateful for in a sea of Batman cinema. This gothic-style television series, which premiered on FOX last Monday, has two highly promising episodes under its belt, and the web is only beginning. As a prequel series, Gotham begins by introducing us to a multitude of characters, many of which share an uncanny resemblance to young villains—such as a young girl with catlike reflexes and an affinity for pick-pocketing. Sound familiar? This girl also happens to witness the death of the Wayne parents from atop an outdoor stairwell, as Bruce Wayne watches both his parents mugged and shot to death as he screams in. It makes for one spectacular opening. The series follows Detective James Gordon, a man most Batman fans will be familiar with from the films and comics. This is, essentially, a crime drama series that happens to be a comic book adaptation. Gordon begins by investigating the gruesome murder of Bruce's parents, Thomas and Martha Wayne. This leads him into a string of criminals, whereby we can begin to suspect as villains: Carmine Falcone, known as The Roman; Oswald Cobblepot, known as Penguin; Selina Kyle, the young girl with catlike skills mentioned earlier. We see glimpses of The Riddler and Poison Ivy as well, and the list is only beginning. Trouble is just beginning to brew in Gotham. One of the show's best attributes is its dark, gritty atmosphere. It is the Gotham we all expect—dirty, grimy, and there's crime and deceit on every corner. This is an entirely new Gotham than Christopher Nolan's Dark Knight trilogy or the 90s films. Fox has made Gotham gorgeously macabre and evil is always waiting silently. After two mind-numbing, genre-bending episodes, it is safe to say Gotham is going to continue being one of the most enticingly suspenseful shows this fall. It will undoubtedly be an experience watching a fan favorite superhero rise from his misery to the life of a vigilante—although, of course, that will take a while. For now, we have an explosively exciting new crime series with an exquisite ambiance and alluring new characters to keep up with on Fox every Friday night.
Discussion Forum
Discuss Gotham on our TV talk forum!