SEASON: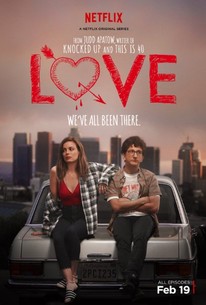 Tv Season Info
On-set tutor Gus Cruikshank (Paul Rust) and radio program manager Mickey Dobbs (Gillian Jacobs) both get out of their respective toxic long-term relationships feeling embittered by the idea of love. By chance they meet at a convenience store and immediately hit it off, but baggage from past relationships keeps them from exploring the possibility that theirs may be the real deal. The first season of "Love" also stars Claudia O'Doherty as Bertie, Mike Mitchell as Randy, and Chris Witaske as Chris. Dave Gruber Allen, Steve Bannos, Brett Gelman, Tracie Thoms, and Iris Apatow appear as recurring characters.
Audience Reviews for Love: Season 1
Netflix is known for picking up products (mostly television series) by either renewing a beloved franchise or television series that has been cancelled or became a cult after the fact. They are also known for original quality content that makes people invest hours of their lives to see what happens next. With one of their newest shows in 2016, "Love" is one of their finest shows to date. In part from terrific writing from Judd Apatow, "Love" follows the Gus and Mickey, two unlikely people who are very on and off throughout the course of this show. The underlying tone is definitely the fact that they have an off-beat connection with each other, but it is their personal lives when they are not together that really shines. Sound intriguing? That is because it is. Gillian Jacobs and Paul Rust are both great as the leads and throughout this first season, you will find yourself rooting for and against their relationship depending on the episode, and I thought that was the most unique part about each episode. They share similar interests, have jobs in a similar industry, and have great chemistry when on-screen together, so when the film is dramatic , it is very effective, when it is funny, it hits with a huge punch, and when it wants you to focus on story, you are already invested. This first season plays out like a 10-part feature film in how it begins and ends by coming full circle for the most part, while still leaving room for unexplored aspects over their lives and their relationship. I am not dying to get to the next season next year, but I will say that I will be eager and ready to watch when it does. As a starting season, it delivered everything and more that I was hoping for. Great direction, great writing, and just following in the Netflix footsteps of delivering great television, "Love" is a show that I can not recommend enough.
Discussion Forum
Discuss Love on our TV talk forum!