Marvel's Luke Cage: Season 1
(2016)
SEASON: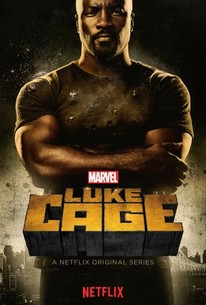 TOMATOMETER
AUDIENCE SCORE
Critic Consensus: An immersive, socially conscious narrative and a confident, charismatic lead performance make Marvel's Luke Cage a stellar sampling of the new Marvel/Netflix universe.
Marvel's Luke Cage: Season 1 Videos
Marvel's Luke Cage: Season 1 Photos
Tv Season Info
An ex-con who gained super strength during a botched experiment fights evil-doers in New York City in this comic-book adaptation.
News & Interviews for Marvel's Luke Cage: Season 1
Audience Reviews for Marvel's Luke Cage: Season 1
A couple of episodes into Luke Cage, I was fully prepared to have a new favourite entry in the MCU. Then the second half of the series happened, and it's hard to even give it a passing grade. But the good does outweigh the bad here.
As the Marvel Cinematic Universe continues to expand with properties like Doctor Strange and Captain Marvel, things continue to heat up for them on the small screen as well. First Daredevil, then Jessica Jones, and now Luke Cage. With the looks of things, many more shows will be on the horizon shortly. From television to the big screen, Marvel has been making nothing but enjoyable hit after enjoyable hit, with no signs of slowing down. Once they included Netflix programming as part of their cannon, a much more gritty and raw tone was able to come to fruition. Luke Cage solidifies that this tone is here to stay, and I must say, that is completely fine by me. These Netflix series' have a new formula that works, so if it ain't broke, don't fix it I guess. Although I prefer Daredevil and Jessica Jones over the first season of Luke Cage, this is easily the most mature Netflix/Marvel series yet. Ever since his appearance in the comics in 1972, the character of Luke Cage has always felt left by the wayside. Hardly talked about unless he is teamed up with the more popular Marvel characters, it seemed crazy to give an entire live-action show to him. That being said, if anything was an indication that this show would have promise, it was the result of Jessica Jones. Although the comics explore the character in a lighter sense, it is without question that he would have to be taken extremely seriously in order to fit into this Netflix/Marvel empire that is being built. In my opinion, this incarnation of the character is incredibly enjoyable. Not knowing too much about this character before going into this debut season, I did not know what to expect, but after making it through its first 13 episodes, he is definitely a character I look forward to seeing more of. While most of the Marvel Cinematic Universe films are known for having weak villains, making the stakes of each film their weakest aspect, the Netflix shows have been able to flesh out the villains in such a way that you see where they are coming from and understand their every move. The character of Cottonmouth, played by Mahershala Ali, was absolutely fantastic in his role, and while there are many other players that stand out on his side throughout each episode, he reigns supreme (acting-wise). You would think that a man who is bullet-proof and has super strength would be invulnerable to pain, making the stakes fairly low for a show like this, but the second half of this season really heat up quickly and the stakes go through the roof. There is always something happening to keep viewers on the edge of their seat. Mike Colter as the leading man could not have been cast any better. He brings a sense of calm to the character, while also being the menace he needs to be when the time comes. Having him play off Rosario Dawson as sort of the love interest was also a joy to watch. After seeing her in multiple episodes of Daredevil and Jessica Jones, it feels like a huge payoff to finally see her character evolve throughout the course of this season. I can't wait to see where their story takes them in the future. Mike Colter was born to play this role, emoting just the right amount when a scene requires him to, and also playing it completely strait and innocent when it needs him to. Colter is fantastic! It may seem like I am giving this show an overwhelming amount of praise, so let me make this clear. Luke Cage is a show that is the epitome of a slow-burn. If you are not in the mood to watch a slow-moving, character-building, wait for the payoff type of story, then I suggest you find something else to watch until you are. This show requires a lot of your attention, but it is worth it in the end. There is not tons of action, but when it hits, it really hits. There are a few loose-ends that I wish had been tied up in the final few episodes that are left unfinished, but hopefully they are brought up again in future seasons. This is a great show that takes a lot out of you while watching it. The first 5-6 episodes feel like they are going on forever, even though the material in them is emotional and extremely effective. When the latter half of the season kick into high gear it is pretty much a non-stop ride to the finish. Luke Cage - Season 1 is a very fun ride that I recommend taking for any Marvel and non-Marvel fans alike. This is not your average superhero tale. Great television!
Discussion Forum
Discuss Marvel's Luke Cage on our TV talk forum!