Making a Murderer: Season 1
(2015)
SEASON: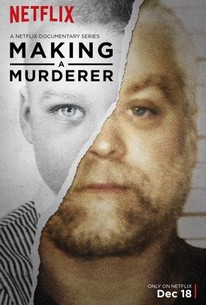 Making a Murderer: Season 1 Videos
Making a Murderer: Season 1 Photos
Tv Season Info
Season 1 examines the legal woes of Steven Avery, a man who spent 18 years in prison despite being wrongfully convicted of sexual assault. Several years after he was released, he was accused of murder, found guilty and sent back to prison.
Audience Reviews for Making a Murderer: Season 1
The kind of true crime documentary that is just too unbelievable and horrendous to be true, and while emotionally exhausting and also one-sided (to be honest, I wouldn't be surprised if Steven Avery and Brendan Dassey did in fact kill Teresa Halbach), it offers very strong arguments and evidence to support that they are both innocent and victims of an awful justice system.
Brilliant nearly beyond measure, exhilarating to the last episode, and chilling to the very core, Making a Murderer is the greatest documentary series I've ever seen, and quite possibly will ever see. It's a masterpiece of filmmaking, a human drama that is vividly emblematic of the failings of our criminal justice system while also a penetrating character study. It's more moving, thought provoking, and disturbing than any other series I have witnessed, and it isn't even close. The series is filmed over 10 years, and follows the tragedy of one Steven Avery. Avery is originally convicted of rape and attempted murder in the 80s, only to be miraculously released 18 years later due to new DNA evidence. The trail of corruption and ineptitude that lead to that wrongful conviction spurns a huge lawsuit against the undoubtedly crooked county, Manitowac Wisconsin. He suddenly becomes inexplicably tied up in another high-profile disappearance, which features a litany of suspicious activity, weirdly discovered 'evidence', coerced confessions, and clear unprofessional police and prosecutorial misconduct. In sum, Avery was almost assuredly framed, or at the very bare minimum subject to artificial 'strengthening' of the case by law enforcement. The series is not narrated and instead features expertly woven interviews and first-person footage of real-time events. We see the ups and downs of the entire family, and the thought-process of the defense as well as the prosecution, as they skillfully manipulate the media to inculcate Avery. We also see the unspeakably troubling railroading of Avery's cousin Brendan, a mentally limited young man who was quite obviously tricked in to giving outlandish confessions to a crime he clearly had no part in. We are able to not only witness the events as they unfold chronologically, but we are able to empathize with all the major players involved. The 10 episode structure gives the story room to breathe and explore the human dynamics that are forever changed because of a corrupt and imperfect system. A Masterpiece. 5/5 Stars
Discussion Forum
Discuss Making a Murderer on our TV talk forum!