Marvel's Iron Fist: Season 1
(2017)
SEASON: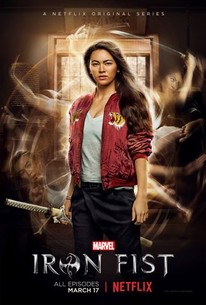 Marvel's Iron Fist: Season 1 Videos
Marvel's Iron Fist: Season 1 Photos
Tv Season Info
Billionaire Danny Rand (Finn Jones) returns to New York City after being missing for years, trying to reconnect with his past and his family legacy. He fights against the criminal element corrupting New York City with his kung-fu mastery and ability to summon the awesome power of the fiery Iron Fist.
News & Interviews for Marvel's Iron Fist: Season 1
Audience Reviews for Marvel's Iron Fist: Season 1
½
There's a lot to like about Iron Fist, not least of which is Jessica Henwick's second-fiddle as Coleen Wing. Unfortunately, as a complete package it is not a success, and a lot of that blame can be laid at the feet of lead actor Finn Jones, but the lion's share goes to showrunner Scott Buck.
The writers really screwed this up.
½
When you have to be the follow-up to fantastic shows like Daredevil, Jessica Jones, and Luke Cage, you know there is a chance you will fall short, but then again, that hadn't happened until this point. Marvel has been absolutely making a killing in terms of ratings on their Netflix programming, but ever since the first episode of this new series, I knew something was going to be off. I'm sure you've heard that most of the big critics who reviewed this show early online didn't actually watch the entire show, which is why the ratings are so terrible, but that gripe aside, it's not like those reviews are wrong. Easily the weakest of the television shows to come from the Marvel Cinematic Universe, here are my thoughts on why Iron Fist isn't as bad as people have been saying. Before I begin to defend this show, I'd like to dive into the story itself and explain why it doesn't work. The story of a man who was thought to be dead by everyone after a plane crash he went through as a child, Danny Rand returns home after being trained in a monastery for many years. While nobody believes he is who he says he is, Danny makes it his mission to reclaim what he lost all those years ago. The set-up is intriguing, but the rest of the show becomes extremely bogged down by legal side plots. Him wanting to gain his share of the company owned by his father is one thing, but having to sit in on every legal meeting instead of discovering more about himself was extremely off-putting, given that this is supposed to be a superhero show. For this reason and many more, I found myself enjoying this show just as much as I was disliking it, making for a very bland experience. I'm not trying to convince you that there is a great show buried in here somewhere, but more to try and shine a light on the aspects that most people will probably ignore when making their criticisms. Whenever the character of Colleen Wing was on-screen, there was a large sense of relief. Her character goes through an even bigger arc than the titular hero, which is a huge mistake in itself, but let's not go there. Her, along with some great fight sequences toward the end of the show make it bearable as a whole. There were quite a few moments that would immediately take away from these elements, but when the show hits, it hits hard, and I appreciated that. This brings me to my biggest flaw. When you have a show called Iron Fist that is nearly 13 hours in length, only to showcase the actual Iron Fist maybe 15 minutes at most, there is something wrong with that. As mentioned above, there is little to no action involving the Iron Fist, which wouldn't bother me as much if there was a huge payoff for each wait. Sadly, the biggest payoffs involve Danny punching through a wall as a cliffhanger for the following episode or taking out the floor of an apartment building, which lasts a matter of seconds. Most people will defend these shows for having a low budget and only being able to go so far with their special effects, but I happen to think these shows should be shorter in general. If a few episodes were shaven off this particular show in order to allow a bigger budget and a tighter story, there would have been much more exploration into his past and how he learned to be the Iron Fist. This show fails to impress on many levels. In the end, the first season of Iron Fist suffers from solid writing that should have been included in a show like Suits. There are two different shows trying to become one. From beginning to end, I found myself loving certain aspects, hating others, and being bored by the majority of it whenever a side character was dealing with an un-interesting issue. Suffering from a weak and underdeveloped villain, a premise that explores the exact opposite of what it should, and not enough excitement to impress Marvel fans or anyone who has been a fan of these Netflix shows, Iron Fist can only be recommended to those who have seen the others shows and wish to watch The Defenders later this year. This is a disappointing show to say the least, but there are some very solid moments worth waiting for. It's not as terrible as the reviews are saying.
Discussion Forum
Discuss Marvel's Iron Fist on our TV talk forum!