SEASON: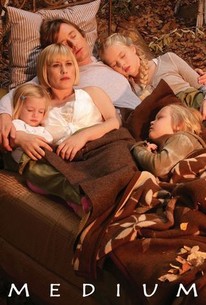 Tv Season Info
In the premiere season of the paranormal drama, wife and mother Allison DuBois (Patricia Arquette) begins to see the good that can come from her gift of being able to communicate with the dead and foresee certain events. The series is based on the real-life experiences of self-proclaimed medium Allison DuBois. As the series opens, Allison gets a job working for Phoenix DA Manuel Devalos (Miguel Sandoval) and has a dream about a murder in Texas. Initially, her husband Joe (Jake Weber) attributes her visions to stress. To prove his point, he submits the details of what Allison saw to various law-enforcement agencies, and he's surprised when the dream relates to a real case. Devalos soon introduces Allison to Det. Lee Scanlon (David Cubitt), who is dealing with the aftermath of an apparent murder-suicide involving his sister and brother-in-law. Scanlon is reluctant to let Allison help at first, but then he sees she really does have a paranormal gift. Soon, Allison learns she's not the only family member with the gift: Her middle daughter Bridgette (Maria Lark) gets a new playmate who turns out to be a little boy who's been dead for several years. Later, oldest daughter Ariel (Sofia Vassilieva) dreams of a young girl being held captive by an ogre. Allison thinks this is nothing more than a nightmare, but Ariel does some investigating and discovers it's something more. Eventually, Allison helps Ariel decode the dream and they find that a young girl really is missing. At one point, Allison has a vision about the death of her brother Michael (Ryan Hurst), a soldier in Afghanistan. She's terrified the dream's going to come true, but then her brother turns up at her doorstep for a visit, and he has some secrets he's been hiding. Other cases Allison works on in Season 1 involve a serial killer, a wrongly convicted man and a murder from the 1960s.
Audience Reviews for Medium: Season 1
There are no featured audience reviews yet. Click the link below to see what others say about Medium: Season 1!
Discussion Forum
Discuss Medium on our TV talk forum!