Once Upon a Time in Wonderland: Season 1
(2013-2014)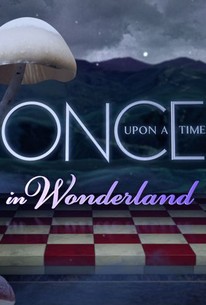 Once Upon a Time in Wonderland: Season 1 Photos
Tv Season Info
In the first and only series of this spin-off from "Once Upon a Time," a young Victorian Englishwoman named Alice (Sophie Lowe) is taken to an asylum after sharing fanciful tales of a magical world on the other side of a rabbit hole. Just before she's about to have an operation to make her forget about these tales, the Knave of Hearts (Michael Socha) saves her and transports her back to Neverland. Upon returning, she tries to reunite with Cyrus (Peter Gadiot), the genie with whom she fell in love. But the reunion is not easy, because Neverland is populated with its share of villains, including Jafar (Naveen Andrews) and the Red Queen (Emma Rigby). As the series unfolds, flashbacks are used to reveal many characters' backstories, including details about how they wound up in Neverland.
Audience Reviews for Once Upon a Time in Wonderland: Season 1
½
A terribly misconceived series, Once Upon a Time in Wonderland is a round peg in a square hole. Creators Edward Kitsis and Adam Horowitz try to turn Alice in Wonderland into a story of true love by mixing it with parts of Aladdin, and it just doesn't work; it rings false on every level. Sophie Lowe is horribly miscast as Alice, as she has no chemistry with her co-stars and never becomes an engaging character. Emma Rigby and Naveen Andrews however, are cast exceptionally well as the Red Queen and Jafar. In fact, Rigby steals the show and quickly becomes an incredibly compelling character with a tragic backstory. But even the best acting couldn't overcome the atrocious CGI sets, which couldn't look more fake if they'd been drawn with Magic Marker. While there are a few interesting episodes, Once Upon a Time in Wonderland is a train wreck that bears little resemblance to Lewis Carroll's work.
Discussion Forum
Discuss Once Upon a Time in Wonderland on our TV talk forum!