Star Trek: Enterprise: Season 2
(2002-2003)
SEASON: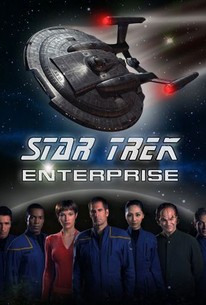 Star Trek: Enterprise: Season 2 Photos
Tv Season Info
Series 2 begins with Captain Archer and Daniels stranded in the 31st Century and we soon learn about the first ever contact between Vulcans and Humans. Later, the Enterprise finds itself in a cloaked minefield, radiation threatens everyone on board, the Enterprise gets held captive and much more.
Audience Reviews for Star Trek: Enterprise: Season 2
½
Enterprise continues its voyages on into a second season with all new adventures. The Temporal Cold War storyline from Season 1 is carried over and ultimately leads to another dramatic season finale in which the Enterprise sets off in search of a mysterious race called the Xindi, who are discovered to be in league with one of the Temporal factions that's attempting to destroy Earth. Some of the episode highlights of this season include "Minefield." "A Night in Sickbay," "Judgment," and the highly controversial "Regeneration" (which retcons the history of the Borg). However, the majority of the season consists of the tried-and-true formulaic episodes that every Star Trek series does about meeting new aliens and investigating space anomalies. Season 2 of Enterprise is still working out some of the kinks, but it delivers all of the thrills and excitement that has come to be expected from a Star Trek series.
Discussion Forum
Discuss Star Trek: Enterprise on our TV talk forum!