The End of the F***ing World: Season 1
(2018)
SEASON: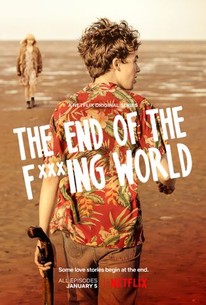 TOMATOMETER
AUDIENCE SCORE
Critic Consensus: Misanthropy and humor pair perfectly in this romantically nihilistic show that proves that falling in love can feel like The End of the F***ing World.
The End of the F***ing World: Season 1 Videos
The End of the F***ing World: Season 1 Photos
Tv Season Info
A budding teen psychopath and a rebel hungry for adventure embark on a star-crossed road trip in this darkly comic series based on a graphic novel.
News & Interviews for The End of the F***ing World: Season 1
Audience Reviews for The End of the F***ing World: Season 1
½
Streaming will be the way of the future because no matter how much quality content is put into theatres, each day is the further progression of those who just prefer to see a movie in the comfort of their own home. Yes, the joys of watching films in the theatre are still very much present, but when the majority of television shows are actually better than the majority of films these days, it's very difficult to argue that streaming won't eventually take over. The End of the F***ing World (although risqué and not for everyone) is one of the latest examples of a streaming service that allows creative and unique minds the freedom to create something original, solely based on it being original, rather than having to rely on it gaining attention from mass audiences. Although this show isn't for everyone or even half of the people that end up watching it for that matter, I personally found it to be one of the best new shows Netflix has released in quite some time. This is going to sound like a messed up and twisted concept just by this simple description, but if you're willing to go along for the ride, then here it is. Following young James as his life has consisted of terrible parenting and the needs to murder animals, he has outgrown his past and sets out on an adventure with newfound "friend" Alyssa, who both have the idea of running away from home. Determined to make a life for herself, Alyssa begins to fall in love with James and they make the decision to become robbers in order to get by. What Alyssa doesn't know is that James has the dream of murdering someone and that she may just be the perfect victim for him. This makes for a very unsettling viewing experience, but don't worry, these characters do evolve and the show isn't quite as bleak as the premise itself. Yes, this is an extremely dark show that many viewers will find more than offensive, but the unique premise of the show alone is something that I really have seen played out on-screen before. This eight-part first season was engaging from start to finish for me. Admittedly, I was turned off by certain story elements and despised the main characters for the majority of the season, but if you're a viewer who can leap over the boundaries of hatred and find a way to love to hate these characters, just to find enough curiosity as to how their stories will end, then I feel that you'll love this show as much as I did. Charlie Covell, Jonathan Entwistle, and Charles S. Forsman all have their turn in penning these episodes, and while their body of work isn't all that large, I can't wait to see what they write next. These characters are wonderfully written, even when it comes to the secondary characters when they pass by a gas station (which was a huge highlight of the show for me), are walking through the woods, or just simply sitting and talking awkwardly, I believed these characters were real, which also felt creepy at times. Alex Lawther is perfectly cast as James, a teenager who just may be a psychotic murder that you're supposed to care about. I was creeped out by this character from frame one of this series and I can't wait to see where this show takes him next. Jessica Barden plays an excellent companion to the character of James and watching the two of them interact is truly what made this show breeze by. At a mere eight episodes, there's so much room to expand. In the end, the first season of The End of the F***ing World asks you to love despicable characters, go along with the fact that the central character wishes to eventually murder someone, and asks you to be okay with certain scenarios that would be all over the news in today's day and age. Personally, once I looked past all of these elements, I was able to conclude that this show is brilliant for what it tries to accomplish. I both hated and loved this show at the same time, which I feel is a testament to how effective it was upon first viewing. To those with a very, very open mind, I recommend checking out the first season of The End of the F***ing World, now streaming on Netflix.
Discussion Forum
Discuss The End of the F***ing World on our TV talk forum!