The Wire: Season 5
(2008)
SEASON: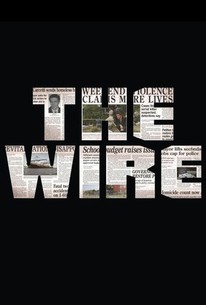 The Wire: Season 5 Photos
Tv Season Info
For the fifth and final series of this urban drama, series creator David Simon returns to his old stomping grounds at the Baltimore Sun, where he worked for many years as a crime reporter, to examine the media's role in modern society. This fictionalized version of what was once a newspaper of record is experiencing tough economic times, precipitating layoffs and a hollow mantra from management to "do more with less." These marching orders are met with derision by Gus Haynes (Clark Johnson), an old-school City Desk editor who encourages eager young journalists such as Alma Gutierrez (Michelle Paress) to hone their craft. The cutbacks at the Sun mirror those at City Hall, where Mayor Carcetti (Aidan Gillen)---who's too busy angling for a gubernatorial run and convicting corrupt politico Clay Davis (Isiah Whitlock Jr.) to care---slashes the police budget to save money. But the decimation of the department's morale and matériel is too much for Jimmy McNulty (Dominic West). The maverick detective, who is not only back in Homicide but regressing to his tomcatting ways, fabricates a grisly crime that catches the eye of self-serving Sun reporter Scott Templeton (Tom McCarthy). And although his sensational articles about a rampaging serial killer are met with skepticism by Haynes, they're championed by his prize-hungry bosses. McNulty's scheme doesn't sit well with his partner Bunk (Wendell Pierce), but is embraced by Det. Freamon (Clarke Peters) if the means justify the restoration of funding to pursue drug lord Marlo Stanfield (Jamie Hector). Free of law-enforcement scrutiny, Marlo shields himself with onetime Barksdale attorney Maurice Levy (Michael Kostroff) on a quest to rule the entire city's drug trade, and tempts fate by luring stickup artist Omar (Michael K. Williams) back to town to settle an old score. Meanwhile, former addict Bubbles (Andre Royo) struggles to stay clean, but finds it hard to face his demons at Narcotics Anonymous meetings.
Audience Reviews for The Wire: Season 5
½
Unfortunately Season 5 is too short to be amazing. Fortunately, we have McNulty doing what he does best and just when we start to relate and understand the newspaper crew, that's when the show ends. It feels a bit short. However, the rest of the storylines conclude as they should, wrapping up everything (or not) as it was supposed to. If you watched this from the start, you know there aren't gonna be many happy endings but the way each character bids their last farewell, stays true to their characters and dynamics with the show.
Discussion Forum
Discuss The Wire on our TV talk forum!